What to Look for in a Massage Chair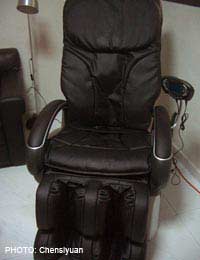 Getting a massage can make you feel rejuvenated, rested, and relaxed. But, many of us have schedules that are so busy that we are not able to find the time to visit a masseuse. How can you still get the emotional and physical benefits of a massage? You can still enjoy the benefits of a massage by purchasing your own massage chair. But, before you buy a chair, you should know a little bit about them.
Types
The massage chairs of today are usually aimed at replicating one of two types of massage: Shiatsu or Swedish. Shiatsu massage is designed to apply pressure to certain points of the body to help correct imbalances in both the mind and body. The Shiatsu massage chair will concentrate on pressing, sweeping, patting, rolling, and rotating muscles.
Swedish massage uses longer, gliding strokes and kneading motion. It is said to have a calming effect on the patient as well as helping reduce pain and joint stiffness. Swedish massage can also help improve circulation.
Options
What options should you look for when choosing a massage chair? If you are looking at a higher-end chair, it should have at least two rollers each for the back, legs, and arms. It should adjust to your size and automatically detect points on the body that need to be worked on. The computerized part of the chair will memorize your size and points, and then work on those specific areas. This means you do not have to reprogram the massage chair every time you sit in it. These chairs are usually very expensive and quite big, so they require a good amount of space. However, if you can afford it and have the room, these are the best massage chairs to purchase.
If you are going to purchase a more reasonably priced chair, you need to know exactly what you expect to get from it. For example, if you want to relieve tension from your shoulders, look for a chair that concentrates on that part of your body. Do you have more trouble with your leg muscles? Then you may want to consider a chair that reclines and offers rollers in the leg area.
You will also need to decide how much pressure you want from the massage chair. Some offer strong pressure and some offer light pressure. You may even want to look for a chair that allows you to change the pressure of the massage.
If you have arthritis, you may want a chair that provides heat as well as massage. Do not forget to check the warranty and motor lifetime information. Massage chairs can cost anywhere from $500 to well into the thousands, so looking at the warranty information is very important.
What to Avoid
Some massage chairs offer air bags in the leg area. But, unless there are motors in the air bags to roll and knead your leg muscles, avoid these chairs. Most air bags simply squeeze the legs, which is not of much benefit. The same thing goes for chairs with arm massagers or air cuffs.
If at all possible, shop for your massage chair in person so you can try it out. Sit in it for 10 to 15 minutes while it is on to see if it is a good fit for you and if you like the amount of pressure. Be sure to test out all the options it has to offer.
Finding a good massage chair can help you feel better and maybe even improve your health. But take a little time before you shop to decide exactly what you want, how much you are willing to spend, and where you will put the massage chair.
You might also like...