How to Avoid Stress in Your Environment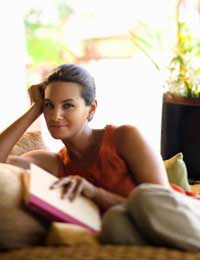 The physical places where you live work, and play can have a big impact on your stress levels and how you manage stress. The noise, the amount of air pollution, the humidity and temperature, the attitudes of the people around you, and even how these places smell can affect your mood and your health. Though we may not be able to control the environments within these places entirely, we can create mini-environments within them that can mitigate the negative effects of them as a whole.
Attitude
Maintaining a pleasant working environment or a congenial home is partly due to the attitude you help generate with those you interact with. It doesn't matter whether you are the CEO or the post room assistant. You can make a difference in your workplace by presenting a positive attitude. Be friendly. Ask others to do tasks without barking at them. Give praise when it is deserved and let those around you know that you value them.
This can cross over into your personal life, too. You can greet your family members warmly and be genuinely interested in what they have to say when you come home. In only five minutes, you can cuddle with a child or hold your lover and ask how the day went. This can take your mind off your own stress and help you connect with those you love.
Declutter
Another thing that can create stress in your environment is clutter. Not only does clutter confuse the eye, but it can make trying to find something a chore. When you remove clutter and put things away where you can find them, you save time and energy, and reduce your stress. Also, your eyes will see a more serene atmosphere in your home or workplace.
Sound
Sometimes your workplace or neighbourhood can be noisy with traffic or institutional music. If your employer will permit it, you can listen to your own musical selections on an iPod or personal CD player. Using earphones, you can listen privately without disturbing anyone else. At home, you can play whatever you like or even turn on nature music or white noise machines to mask traffic noises or other unpleasant sounds in your environment.
Temperature and Humidity
Though many people lower their thermostats to save money, it is important to make sure that you are comfortable. Many people actually prefer their homes to be a little cooler, especially at night. While you sleep your body temperature will lower, but you will actually sleep better in a cooler room. You can always add an extra blanket if you want.
Besides temperature, make sure you have enough humidity in your home if you need to. If you use a humidifier, you will need to clean them regularly. You can add moisture simply by putting a pot of water on the stove and letting it boil for a few minutes. You can also moisten a clean towel and place it on a radiator. Once it is dry, you can remove it. These may not be glamourous ways to add moisture to your home, but they don't cost anything and are germ-free.
Clearing with Scent
One thing that can add to stress in your environment is smell. If you keep your home and workplace clean, chances are it will smell pleasant, especially if you use a scented household cleaner. A clean home nurtures your senses and your emotions.
You can add scent through candles and scent rings that disperse fragrant oils when heated. Lavender, rose, orange and vanilla are scents often used for relaxation.
Greenness
Opening your windows for a few minutes, even during the winter, can bring in much needed fresh air into your environment. This kind of air exchange is especially important if you have been ill. Not only will you remove the stale air in your home, but you may also be removing airborne germs. Fresh air can invigorate you and help you create a pleasant home.
You can also add green plants to your home or workplace. Whether it is a simple ivy, a hardy philodendron, or a delicate flowering plant, having something living around you helps remove carbon dioxide from your environment and adds oxygen. In addition, the beauty of the plant appeals to your aesthetic sense and helps calm you.
Any of these tips can help you create a pleasant environment and minimise the stress in your surroundings.
You might also like...