Time Management and Stress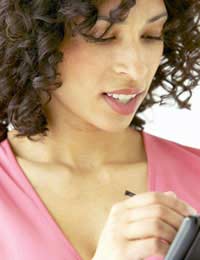 One of the biggest stressors is feeling at the mercy of time. You run late. You miss deadlines. You can't find what you need and that wastes more time. You feel overwhelmed by all that you have to do and there seems to be no relief in site. Managing your time is possible. Once you have it under control, you will find that you not only feel less stress, but you often will have more time to use.
Plan Ahead
Many times we feel stress because we are running late for work, for a meeting, or for a date. Decide at what time you should leave to arrive at your destination and then add 30 minutes. That way, if there is some other delay; you will still be able to make your appointment. If you arrive early, spend the time reading a book or just enjoying having a few minutes to yourself.
Master Schedule
Use a large calendar, computer datebook, or a PDA to set up your master schedule. Enter all of your long term appointments, project deadlines, and recurring meetings into a calendar first. Then, add current meetings you have scheduled recently.
Write a master to-do list, detailing all of your work projects and duties under one heading and all of your home projects and chores on another. Think about what time of day is better for you to do specific tasks. Group high level activities under your more productive hours and low level activities like opening mail for your least productive times.
Delegate
Look over your list and see what tasks you can delegate to other people. Toss out any tasks that really aren't necessary. Also, learn to say "No" when asked to take on more than you think you can do yourself. This includes work projects as well as personal tasks.
Prioritise
Next, prioritise everything on your list into important items "A" and secondary items "B." Don't expect to do all of the "A" items in one day. Spread them throughout your week or month. Block out at least two hours during your peak energy time every day to work on "A" items. If need be, put a "Do Not Disturb" sign on your office door. During your lower energy times, work on "B" items.
Big Projects
Break down big projects into smaller goals. Work backwards from your deadline, first adding a few days to a week, in case something goes wrong. Place mini-deadlines for each of these small goals onto your master calendar. Then work on a part of the big project each week or each day.
Daily Schedule
Write a daily to-do list for the next day before you leave work. Make sure you only schedule no more than half a dozen items on your daily calendar. Many people who are stressed tend to put too much into their daily schedules. You cannot possibly do everything on your master schedule in one day. Get to know your own work habits well enough to know what you can accomplish during your work day. This is equally true for your personal tasks.
Reward Yourself
Schedule holidays, weekend getaways, parties, concerts, and other fun activities into your master schedule. When you plan your daily schedule, also pencil in break times during your day. In addition, if you are working on a large project, give yourself a special reward when the work is completed.
Organise
Make sure your home and workplace are organised so that you won't spend time looking for things you need to work with. Have a supply drawer or cabinet for work items. Keep contact information in an address book or electronic organiser and have it where you can always find it.
At the end of the day, clean off your desk or work station. Not only will you have a clean space to work on the next day, but you will feel more energised when you come to work in the morning.
Do It Now
Don't procrastinate. Do it now. If you are avoiding a particularly disagreeable task, either do an easy one first to get you started or just dive into the dreaded task and reward yourself with something you like to do.
One Thing at a Time
Keep focused. Complete one task at a time. Try not to move onto another task, even if you have an interruption that focuses your attention to something else.
Once you implement time management techniques like these, you will feel more in control and more productive. You can then enjoy your free time and begin to relax.
You might also like...