Using Hypnosis to Overcome Stress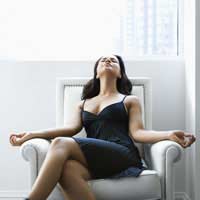 Hypnosis is an often misunderstood tool. You may see people barking like dogs on television while under hypnosis, only to return to their normal self with the snap of the hypnotist's fingers. This is sensationalized hypnosis, used primarily for entertainment purposes. You will never do anything while under hypnosis that you would not do otherwise.
Real hypnosis is a trance-like state in which a client may appear to be asleep but is actually in a conscious, yet relaxed and subdued state. While in this state, the person may be open to suggestions given by the hypnotist. Many people have found that undergoing hypnosis has helped them to stop smoking, quit overeating, and some people even say that it helps reduce stress.
Visiting a Hypnotherapist
If you find you are extremely stressed about a particular event or just life in general, visiting a hypnotherapist may help you get in control of your feelings and ease the stress.
You can search for a hypnotherapist in your area either online or through the phone book. Of course, there are some things of which you should be aware when looking for a hypnotherapist. First, he or she should be willing to address any questions or concerns that you may have. Ask the hypnotherapist if he or she has any professional training and if so from where. Feel free to ask how long he or she have been doing this and if he or she belongs to any professional hypnotherapist associations. Many professional associations have a code of ethnics by which they expect their hypnotherapists to follow. He or she should ask what issue you want addressed by hypnotherapy as well as explain what you can expect from a session. Be sure to ask how long a session will last and how many sessions will be needed. Be sure to ask the price of each session and if he or she can train you in self-hypnosis so, you can continue therapy on your own.
After the first session, you should get a feeling as to whether you and the hypnotherapist are a good fit and if the session has helped you any. The hypnotherapist will probably ask you questions after the session about experiences you had while in hypnosis. This can be an important part of understand your sources of stress.
If you feel uncomfortable at any time during the session, you can terminate it. You are not under the hypnotherapist's "spell" during a session, only more consciously open to the relaxation techniques suggested.
Self Hypnosis
You may be able to learn to hypnosis yourself with or without the instruction of a trained hypnotherapist. To be able to do self hypnosis, you should be in a quiet place with no distractions so you can put all your focus into reaching the hypnotic state. You should be sitting or lying in a comfortable, relaxed position. Think about what your goal is for the session, such as to quit worrying about work or creating a less stressful home life. You can come up with a word (such as "simplicity") or a phrase that reminds you of your goal. Many people like to breathe deeply, as it helps relax and calm them even further.
Some people use the step method, which involves using your imagination to walk down 10 steps, each one taking you further and further into hypnosis. As you walk down each step, you should feel more and more relaxed. Some people like to imagine they are in a soothing environment, such as the woods or the beach. Once you feel completely relaxed, begin to focus on your goal and the word or phrase that describes it. You can even visualize the goal, such as seeing yourself in a calm rather than stressful work environment. Remember that hypnosis is a skill can be improved over time with practice.
Hypnosis is a very resourceful tool that can be used to help you eliminate stress and become a more relaxed person. It is easy to do and maybe inexpensive compared to other methods of stress relief. There are only benefits, no negative side effects, to using hypnosis to overcome stress.
You might also like...