How to Help Children Avoid Stress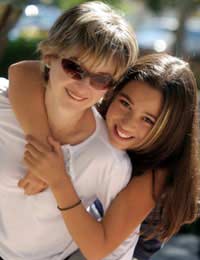 Childhood can be a time of extreme emotional stress. In their first 18 years of life children are often exposed to many stressful situations – going to school, making friends, rejection, dating, puberty, trying to adjust to impending adulthood. But, you can help your child of any age to avoid stress.
Recognising Stress
Before you can help your child avoid stress, you need first to recognise signs of stress. Is your child:
Frequently tired
Moody for no reason
Unable to concentrate
Unable to sleep
Fearful, but doesn't know why
Hungry all the time
Not hungry at all
Less enthusiastic than normal
Any of these symptoms can be a sign of stress, but these are not the only signs. Anytime you notice any unusual behaviour in your child, try to find out what is causing it. Ask them why they are acting differently or if anything is bothering them. You will probably need to ask more than once. The usual response, especially from a teenager, is "Nothing." But if you notice the behaviour again, continue to ask, in a non-intrusive way. Look for changes in their schedule, try to notice if they have different friends, and pay attention to their school results to see if they are doing badly. All these can be indicators of something stressful going on in their lives.
What is Causing the Stress
When you notice stress in a child, one of the best things to do is talk to them about it. Let them know that everyone experiences stress in their life, but there are things that can be done to avoid it. One major cause of stress in children is an overwhelming schedule. Many children today have schedules that would wear out any adult. They have many extracurricular activities such as sports, music lessons, and dance lessons. They also have homework each night, probably more than you had as a child. If you add in any household chores to that, it is enough to cause stress in any child, no matter how well adjusted they are. Take a step back and see how much they are doing and what, if anything can at least be temporarily taken away to give them more time. We often expect our children to be able to manage their own time, but you may need to step in to and do some time management for them. Talk to them about what is important and how some things may have to wait until they have a less busy schedule.
For example, if you child is taking piano lessons, but is stressed out about it because they are not practising like they should and performing poorly, try to find out the source of the problem. Do they just not enjoy taking lessons? Or are they so overwhelmed with schoolwork that they do not have time to practice? If homework is overwhelming them, you may want to talk to their teacher. Perhaps they have a learning disability or need a tutor to get extra attention. Perhaps they just need to make better use of their time. Set up a schedule for them that includes both time to do homework as well as time to practice piano if they want to continue the lessons. If needed, ask them if they want to discontinue the piano lessons for a while so they can be caught up on schoolwork.
Sometimes, children just do not want to talk to you about their problems – big or small. If your child does not want to talk to you about what is stressing them out, buy them a journal. Sometimes, especially with teens, just having a place to vent and talk about problems is helpful. It can help them release pressure, but also help them think things through to work out potential solutions to problems they are having.
A Stressful Home
Make sure you are not doing something that is causing stress to your child. Are you divorced? Do you and the child's father get along? Or do you fight in front of him or her? Are you abusing alcohol or drugs? Remember that your actions or those of other family members can stress children. Try to make their environment as stress free as possible. This can also include the physical environment of their room. Teens probably will not want you decorating their room, but with younger children, you can paint the room cheerful colours. Make sure their room is kept clean and clutter free so it is an environment in which they will feel comfortable.
Counselling
Sometimes the only way to avoid stress is to seek counselling. Some children have deep seeded fears, which they may not talk to you about and nothing you do or say will help relieve these fears. In cases such as this, try to get them into counselling. It may take a while and you may need to visit several counsellors before they find one they feel comfortable enough with to open up and tell them what is really bothering them. The counsellor will be able to find the root of the problem and then teach the child techniques to deal with it, thus avoiding stressing situations in the future.
Some stress may be easy to handle – like an overloaded schedule. Other stressors may not be as easy to avoid. Many children today have to worry about bullying in school, gangs, and school violence. In situations like this, drastic measures may need to be taken. You may need to consult the Head Teacher, to see what can be done – perhaps even moving your child to a new school. You can also consider home schooling him or her if the stress has gotten so bad, that is may be detrimental to his or her emotional or physical health.
As adults, we often forget about all the stress that childhood can bring. But, if you are aware of your child and sensitive to his or her moods, you should be able to pick up on what is stressing them. Once you know what is causing the stress, looking for a way to avoid it is possible.
You might also like...