How to Avoid Stress at Home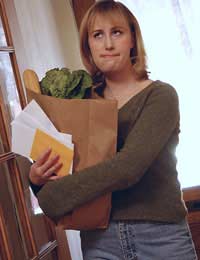 Many people think the majority of stress is caused by work. But if you stop to think about it, home life can be very stressful too. When work gets too stressful, you can always change jobs, but it is not as easy to change families. Many parents feel overwhelmed at home, especially if they are under a lot of pressure to work. Some people bring work problems home, which can stress out an entire family. Just the stress of working a hard eight hours then coming home to cook dinner, clean the house, wash the clothes, help with homework, and try to spend any quality time with your spouse and children can be overwhelming. People often feel stressed about not being able to do enough or not being able to do the things they would like to do with their family. Then there is always financial stress, which most couples and families face at some point in time. But, there are some tips to help decrease stress at home.
Marriage
Remember that marriage is a two way street. The best way to help ease stress at home is through communication. Many couples experience problems because they fail to communicate their feelings and desires to each other. This can cause stress, which may lead to resentment and anger, further worsening the problem. If you have concerns about anything, find time to sit down and talk to your spouse about them. It can be concerns about work, money, parenting issues, or anything else that is on your mind.
While talking to your spouse is a very important part of communication, listening is also crucial. You can talk until you are blue in the face about your worries and concerns, but if your spouse feels you are not listening to him or her, it will not help ease the stress. Many people say they have too much to do to take time to communicate, but you must set aside time. Without communication, most marriages do not stand a chance.
Some couples have trouble communicating. Even when they sit down and talk, they still have problems understanding each other. It may be a case of someone not saying what they really mean or it may be a case of someone interpreting what is said differently than it is meant. If this is the case with you and your spouse, seek counselling. A counsellor can help the two of you with your communication skills. Counselling sessions are not something you must attend forever, just a foundation on which to build. You should find that once you communicate better that there is much less stress at home.
Finances
Many couples and families have stress over finances. Whether it is a case of literally living from one payday to the next because there is barely enough money coming in, a case of someone spending too much or a case of massive debt, finances are often a major source of stress. Again, communication is key. If you feel your spouse is spending too much, talk to him or her. If you find you do not have enough at the end of the month, make a budget to see exactly where money is going and if anything unnecessary can be cut out. If needed, visit a financial or debt counsellor to help you work out a budget.
Children
Children seem to have an endless supply of energy. After working all day, most parents are too tired to spend time with their children. If the children are not getting the attention they need, they may act out, which causes family stress. Just as with a spouse, you need to be able to communicate with your children. If they are acting up, find out what the source of the problem is. Children do not always know exactly how to express themselves. If this is the case, again, a counsellor can help.
There are different types of situations that can cause stress at home. Adults taking care of their elderly parents, single parents taking care of their children alone, unexpected home repairs/appliance replacement, personal safety, and automotive failures are all examples of additional situations that can cause stress. Many things cannot be avoided, but stress management techniques and asking for help when it is needed can help reduce stress at home.
You might also like...