Using Prayer when Coping with Stress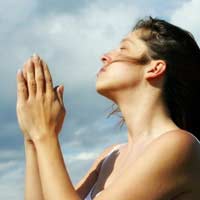 Whether we like it or not, stress is usually a part of our daily lives. We are so busy with children, spouses, jobs, extracurricular activities and such, that we rarely have any downtime and that means our stress levels are often very high. Using prayer as a means of stress reduction is an excellent way to focus not on what you have to do or what you do not have, but to focus on what is truly important in life as well as focusing on the health and welfare of others.
More and more today, people are turning to prayer as a quiet time that allows them to reflect on the positives in their life and pray for change to any problems or difficulties they or someone they know is facing.
Praying for Ourselves
Prayer can be directed one of two ways: Towards ourselves or towards other. If you find yourself faced with stress due to such things as marital strife, health issues, or problems at work, prayer may provide a calming way for you to work out your issues. It can be used as a copying strategy – making you feel more optimistic or in control of your situation.
Prayer can be used as a time of meditation but rather than clearing your mind or focusing on a pleasant place or chant, with prayer, you can use prayer to properly appraise your situation. You can truly evaluate what is going on and concentrate on a solution.
Praying for Others
When you pray for someone else, it is known as an intercessory prayer. You can pray for another person simply because you care about him or her, but praying for others, even people you do not know can benefit you.
Praying for others in worse situations that your own can help you realize that your situation is not that disastrous. Sometimes, we get so focused on our own lives that our stress level becomes elevated and we develop a knee jerk reaction to things. Praying about your problems may actually have a reverse effect in that it may make you more thankful for the things you do have!
Maybe you are under a lot of stress because you just found out your mortgage payment is going up. During prayer, remember that there are people that do not have a shelter to live in at all. Next time you stress because your faucet is dripping, remember that there are many people in parts of the world that do not have access to water at all. This can help you put your whole situation in perspective and possibly alleviate the stress caused by certain it.
Pray in Times of Illness
Many people turn to prayer when either they or someone they know is ill. Some doctors believe that if you have a chronic or terminal illness, prayer may not only help relieve some stress, but it may also have a mind-body affect in which your can help relieve symptoms of your illness and experience a better quality of life. Also, prayer may be one of the few ways you can feel that you are truly helping someone who is ill through difficult times.
Managing stress is something most of us strive to do, so consider adding a few minutes of prayer to your life each day. No matter what God you pray to, prayer can help you refocus your attention on the truly important things in life. It can give you a quiet, reflective time alone that can leave you feeling rejuvenated and more positive about your life in general.
You might also like...