Using Music in Your Home Sanctuary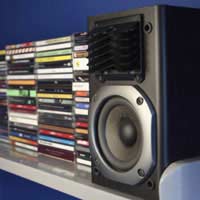 Music is very evocative. It is almost as strong a memory inducer as scent. Music can bring a memory back as if it happened yesterday to the point where you feel what you felt when you first heard that tune. That is one reason to use music to set a tone within your home sanctuary.
Music also can help us grieve and cope with frustrations. It can stimulate our creativity and expand our souls. It can help us move into a more peaceful state physically mentally, and emotionally. Susan Mazer and Dallas Smith, founders of Healing Healthcare Systems, use music to create healing environments in hospitals. According to them, music, in its highest form, transforms the patient's perception of how they experience their illness. Music, then, can be a powerful healing tool.
How Music Helps Us
A ballet teacher once told her new class of three year olds to only wear their ballet shoes and leotards when they were going to dance, not any other time. Most parents assumed it was to make the leotard and shoes last longer. The teacher, however, had another strategy in mind. By having these young dancers relate dancing to putting on their ballet things, it trained them to unconsciously to slip into the behaviours of ballet class every time they put on their dance clothes and their ballet slippers. When they came to class, they were ready to dance. This behaviour stayed with these young dancers as they grew into their teens and continued to dance.
Music can do the same. Hearing the same piece of music can train our minds and bodies to relax. If we use a specific piece of music to do our yoga practice or meditation, our bodies will respond sometimes before our minds will. The music triggers the relaxation response. We can also use music to stimulate our bodies, moving us to action when we put on rock music to workout with, or salsa music to dance to.
Music can also energise us creatively. If we use music to stimulate us as we explore our creative side, making art or cooking, we will be more successful in these activities. Music can also elevate our mood and calm our bodies. If we make music (that is, play a musical instrument), we benefit doubly. We are stimulating our creativity as well as slipping into a more relaxed state as we become engrossed in our musical instruments.
Types of Music
We can use any kind of music in our home sanctuary. As long as the type of music or song isn't something that we listen to regularly at work or while interacting with the stressors in our lives, we can teach our bodies to relax or be energised through the use of music.
Nevertheless, there are certain types of music that can help us relax better than others. Often instrumental music is more relaxing than music with vocalists. However, a soul singer can also calm us and put us in relaxed state. Gregorian chants can also be relaxing. Ironically, blues music, though written with sad themes in mind, really can be a release of negative emotions as we move into the music and begin to feel its rhythms.
Classical music, especially baroque music, is often relaxing. (Modern composers like Bartok, however, may bring in more atonal elements that aren't conducive to relaxation.) Music with simple arrangements, featuring one instrument such as a flute, harp, acoustic guitar (classical guitar, Spanish guitar, etc.), or piano can be very peaceful music. Some drum-based ethnic music can also be relaxing. New Age music can also be good choices if we want to relax.
Rock music and jazz is often energising music. Ethnic selections, often called World Music, can also be energising (African rhythms, Salsa, Bossa Nova and other Brazilian styles, Turkish belly dance music, etc.).
Any combination of styles can be creative and stimulating. The one thing we have to remember when we choose music is that it must be something we enjoy listening to and something that we don't associate with the stress we feel.
How to Use Music
First, we can put on a piece of music as we enter our space or begin our activity there. If we want to train our bodies to relax, we might use the same music each time we enter our home sanctuaries. If we do different activities in our space, we may need to choose specific music for each activity.
We may also choose to vary our selections, depending on our mood that particular day. In that case, we would need to take stock of what we are feeling and what change we want to induce. If we are frustrated and angry, we would want to feel calm. If we are feeling depressed and harried, we would want to feel happy and competent. If we are feeling lethargic or bored, we might want to be stimulated and feel creative.
We can select a piece of music that would create the feeling we want. If we want to feel stimulated, dance music, rock, or world music might be good choices. If we wanted to feel calm, we could select flute music or a classical piece. If we wanted to feel happy, Klezmer music (an Eastern European style of music that is often used in cartoons) or children's music might be fun.
We might want to burn a full CD of music in a particular mood. We could use these when we wanted to shift your mood or energy level.
We can either sit and listen to the music, paying attention to how it makes our bodies feel. We can also attend to the images the music inspires within us and move into mediation with the music.
We can also begin to do the activities we do in our sanctuary, letting the music guide or workout our creativity. Using music in our home sanctuaries will help us shift our mood or energy. Music becomes a catalyst to help us relax or to energise us.
You might also like...