Determining What Your Space Will be Used For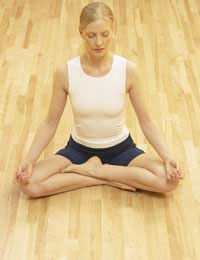 If you want to create a home sanctuary you will need to ask yourself some questions. What will the space will be used for? What activities will you do in the space? How much time do you intend to spend in the space? Who else might be using the space? What kind of atmosphere do you wish to create in the space?
Creating a home sanctuary is a decision that is crafted around how much you need to relax and revive and how you need to do that. If relaxing means that you need to work off your tensions through exercise, martial arts, dance, or yoga, you will need a certain size space for those activities. If you need to just close the door on the outside world, perhaps soaking in a spa tub would suit you or maybe you need to sit in a quiet room, listening to soothing music. If you need to meditate in order to separate your work life from your home life or you need to meditate to start your day, you will need a different kind of space. Sometimes, you just might need some amenities that can take your mind off your stress, such as watching movies or listening to film scores. Or, perhaps you need to tap into your creative side and need a space to work in paint or clay or even food.
All of these different activities require a certain type of space. Everyone would like to have a special room to do any of these activities in, and some would want a room for each activity. Often, we can't designate that kind of square footage to a single activity, unless we make a living out of it. For example, a yoga instructor (even a part-time one) might have a room designated for yoga practice. An artist might have a studio. A musician might have a practice space. For most people, having the essential rooms (kitchen, bath, living room, and bedroom) are all that our money can buy or rent. That is why it is essential to determine how you will use your space.
The Spa
If you need a space for body maintenance and pampering, you may need a spa room. This can be a regular bathroom, but it can be enhanced with a Jacuzzi or a steam room. Even having a shower with a rain forest showerhead or multiple showerheads can be an expense that will help you manage your stress.
Even if you can't upgrade your bathroom, you can fill it with candles, scented soaps, and music to help you escape the stresses of the world while you soak in a bubble bath. You can spend a few dollars on items that smell wonderful and make you feel pampered and beautiful. And, men can do it, too. Having a great scented body wash can help you begin your day feeling attractive and energised. Heated by the steam in the shower, some of these products become aromatherapy sessions. A spa space can help you begin your day with energy or end it with relaxation.
The Workout Room
If you will use the space for a workout room for body regeneration, you will need a bigger area so that you can move around. If you workout on a machine of some kind, you may not need as much space. Too often gyms have loud music or televisions blaring that it makes relaxation counterproductive. If you can set up your trend mill or stair climber in a space that is quiet and peaceful or where you can look out over a beautiful view (if you're lucky enough to have one where you live), you will begin to relax sooner. And, you won't have to get into your car and drive home from the gym.
A workout space can also be used to practice yoga, tai chi, and martial arts. You can also dance in the space. But remember, for some activities such as yoga, you can practice while facing a wall hanging of a mandela while you listen to music, and therefore won't need as much space.
The Meditation Space
If you need to quiet the inner you and seek spiritual enlightenment and rest, you might want a meditation space. This can be a smaller space where you sit on pillows or even stretch out on your bed. You may choose to light candles or play music. It must be a space where you feel safe and will not be disturbed. A bedroom where you can close the door is fine, as well as your apartment living room, especially if you live alone.
The Studio
When you want to explore your creative side as a means of managing stress, you can have a studio or craft space. You can have a complete room or part of a room. Or, you can keep your creative materials in a handy place and take them out when you want to paint or sculpt. Yes, it would be ideal to have an art room or studio space, but that may only be possible if you make a living in art. But, you can still make art anywhere. You just need to have your materials collected in a special place and have a place in which to work. That could be the kitchen table or a space on the patio.
If you are a musician or a photographer, you may not need a lot of space in order to make art. You just need a place in which to keep your instruments or your cameras and any other needed supplies. You can take the instrument or camera out in order to practice or to shoot film.
The key is to keep your creative supplies organised and close at hand. You want to be able to create when you want to and not lose precious creative energy looking for your materials.
The Kick Back Space
A Kick Back Space can be your living room, family room, or bedroom. It is a place where you relax, listen to music, or watch films. This space should be special, a place where you come to listen to specific music or watch special films. This should be as sacred a space as a meditation room or workout room.
Fill it with art and objects that give you pleasure. They can be about music or film, but they should be beautiful to you and have meaning to you. Then, designate a special time each day or week in order to spend time in this space in order to listen to special music or to watch special films.
It is important that this space isn't used to listen or watch just anything that might be on the radio or on the television. In order to keep this place from being just the Couch Potato Space, you need to make it special. If it becomes the Couch Potato Space, you won't feel relaxed and rested. That's why it's important to designate it as a space for viewing or listening to art forms you really like. Here, you listen to CDs you enjoy, that make you feel good. You watch movies from start to finish (no video surfing that often leaves you unsatisfied) about things you enjoy. Rent them or borrow them from the library.
Once you determine how you will use your space, you can then start working on creating the unique home sanctuary that is totally yours.
You might also like...