Using Windows and Lighting in Your Sanctuary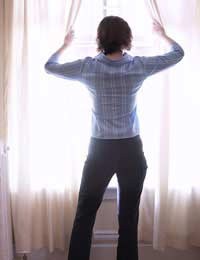 Every space has to have some source of light whether it's natural or comes from an artificial source. Light helps us move around without tripping over something. It helps us to perform tasks and look at those we love. It allows us to read and play games. It also helps to establish our mood.
Setting the Tone of a Room
The source or sources of light in a room can really set the tone, not only for the activities we do there, but how we feel about the space, ourselves, and others in the space. Different activities require different levels of light and create different moods. Bright light allows us to see very well and stimulates us. Soft, ambient lighting gives a feeling of tranquility and invites relaxation. Task light can help us focus on specific activities or objects, without intruding on the entire room. Finally, natural light can either flood our rooms with sunshine that is uplifting or annoying, especially if we are trying to sleep. Choosing the right type of lighting is critical for establishing the kind of mood we want in our home sanctuaries.
Task Lighting
Task lighting is often the brightest form of lighting we can use in a room. Kitchens, studios, and bath and spa areas often have brighter lights that may shine on specific areas or even then entire room. These lights are often necessary for our safety when we work or play in certain areas. We don't want to cut ourselves in the kitchen or trip over something getting into the Jacuzzi. Bright light also helps us see what we are doing. We won't put in the wrong spice in our curry or mangle an intricately carved food garnish. Bright lights help us see well to create art and to read.
Many times, the lighting choice is a fluorescent bulb. Fluorescent lights are good sources of bright light for tasks that require attention. They are found frequently in offices and kitchens. However, some people find these lights uncomfortable to endure for any length of time and often these bulbs emit a noticeable hum. Fluorescent lights also can change the colours of food, art media, or artistic displays around us. In addition, bright light can often be glaring and can cause eye strain. Most task lighting can be in the form of table lamps, gooseneck lamps, or high intensity lamps. They can also be ceiling fixtures or swing arm wall lamps that focus their light on a specific area.
Another form of task lighting is accent lighting. These are often small lights used to showcase art or collections. Recessed lights, also called pot lights, are installed into ceilings, with their bulb covers flush with the drywall or plaster. These can also be used as task lights to downlight a bathroom sink or a kitchen work surface or even a work of art. They are used anywhere that needs a concentration of light without spilling over into the rest of the room.
Soft Ambient Light
The most restful and romantic lighting is soft, ambient lights. We can create a restful feeling through the use of small light sources, bulbs that are not bright, and lamps whose light only spills over a small area. Sometimes, ambient lighting is restricted to light sources; although we can create a similar effect with many lights, depending on what we choose.
There are many different types of lighting sources that we can use for ambient lighting. The most obvious is a small table lamp. These usually have low wattage bulbs and offer a soft diffused light in a room. Using soft white light bulbs or even coloured bulbs can give a room a cosier feel.
Backlighting and underwater lighting is another way to create a softer glow in a room. Using these lights can either complement other lighting in the room or be its only source. Back lighting is done by placing small lamps behind plants or down on the floor and shining the light upwards. The light will play among the foliage, highlighting it or diffusing and softening the light itself. We can also backlight art objects by placing light sources under pedestals or in cabinets where art is displayed. China cabinets often have light sources that softly play over your dishware or collections. Another form of backlighting is underwater lighting. Here, special lights with waterproof housings are placed underwater or near water. Lights can also be installed in the sides of bathtubs, Jacuzzis, hot tubs, outdoor pools, and water fountains. They can also be placed over aquariums or in the sides of fish ponds or around them. Underwater lighting should be professionally installed.
Some people also create ambient lighting with arrangements of miniature fairy lights. Sometimes, these lights are just strung along a shelf or played over draperies. They can also be placed in artistic constructions so they look like lighted art pieces.
Another form of ambient lighting is stained glass. Usually, the stained glass piece is mounted in a frame and backlit with small lights. Stained glass can also be installed in windows and lit naturally.
Finally, two classic forms of ambient lighting are the fireplace and the candle. Fireplaces cast a soothing glow into a room. The light that comes from them can be enhanced through the use of decorative fireplace screens. Patterns in wrought iron or even stained glass can add the element of colour and shape into the light.
Some people who don't have working fireplaces but have the hearth, mantle, and brick or stone enclosure can still create the fireplace feel by placing a display of candles where the logs would normally go. Usually, the candles are in various sizes or are on a tiered stand to simulate a roaring fire.
Moreover, candles can always be placed throughout any room to create a soothing, relaxed atmosphere. An arrangement of candles in different sizes can be used or just a single taper. The possibilities are endless.
Lamp Shades
You can change your mood or give your sanctuary a more personal touch by choosing lamp shades in colours, textures, and designs that reflect your room's theme and your taste. Some people also drape coloured scarves over lamps to cast a different hue into the room. Caution should be taken when this is done to be sure that the lamp shade is not getting too warm and the scarf doesn't touch the hot light bulb.
Natural Light
If you use your sanctuaries for workout spaces or to do yoga practice, we might want to take advantage of the natural lighting in the space. Sometimes, moving our bodies in the sunshine can elevate our moods and help us relax.
Natural light is also necessary if we draw or paint. If we are doing still life or portrait, we need to be able to see how natural light plays across the model's features or the effect of light and shadow on objects that we have arranged. Having an open window that provides enough light is essential. Southern exposure is ideal, but other views can work. Avoid northern or eastern exposure unless you are planning on working in the space in the early hours of the morning.
Whatever lighting you choose for your room, consider the activities you will do in the room and the mood you are trying to create. If those are in sync, you will be on the road to greater relaxation.
You might also like...