Finding Your Space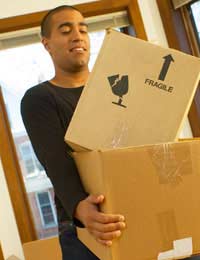 For many of us who want to create a sanctuary in our homes we may think that we don't have room for one. Aren't these spaces found only in the homes of the rich and famous, we ask ourselves. We think of these places as luxury rooms with marble spas or yoga practice rooms with hardwood floors and French doors open to ocean views. We think of home sanctuaries as dream rooms out of the pages of magazines. In truth, we can create a home sanctuary right where we are. All it takes is looking around us and seeing the possibilities that are there.
Once you have determined what kind of space you want, what you want to use it for, try looking around your house or apartment. If you live at home or in halls of residence, you can look around the areas that are exclusively yours.
Looking at Space
As you look at your home environment, think of size first. How much room do you need? Look at how you use the space within your home. Is there a room in the basement or a spare bedroom? How is that space used? If it is used for storage or just seems to be collecting clutter from other parts of the home, then perhaps you can sort through what is there. Toss or give away what isn't being used or you don't want to keep and find new places for what is left. You may be able to reclaim the space and use it for your home sanctuary.
Would there be just a portion of any of these rooms that you could reclaim for your special place? Could you move what is there to another location? Could you give away or get rid of what is in that section of the space? Basement spaces are often good places to start looking. In warmer climates, garages or storage buildings are good options to recycle into sanctuary spaces.
Other Options
You can also look at how you are using space within your living areas. Is there an area of the family room that you could use or space in your bedroom? How can you declutter or move furniture around to create a special place for you?
Think about using paint or fabric to designate your section of one of these rooms. You could use a decorative screen or drape a curtain around your space so that you could do your meditation in private.
Projects
Look at what can be altered in any of the rooms in your home. Could you create extra space in the basement or other room by putting in another wall? Could you create shelving or storage areas so that you could move items out of a space that you could use as a sanctuary place? Could you do some remodeling to make more room or to alter the space that is there?
Looking Outside
Look seriously at outbuildings. In warm areas, shed installers are taking the small garden shed that would normally house a lawnmower and garden tools and refitting them into office and studio spaces. These can have electricity installed as well as skylights and other amenities for artists and sculptors. Even special heat resistant flooring can be put in to house a pottery kiln.
Some people have even put in permanent yurts (circular tents) with hard-sided walls and flooring, creating yoga practice spaces and meditation rooms. Other people have created outdoor spa spaces with hot tubs and swimming pools. Though most of these spaces often double as purely recreational places, they can also be used for meditation and muscle relaxation.
Spaces like these aren't attached to the main house. This gives them a true separate feel. However, the short walk to the sanctuary space becomes part of the transition from stress to relaxation.
By looking around at what we already have, we can see the potential within our homes. It just takes a bit of creativity and some decluttering to find our ideal sanctuary space.
You might also like...