Understanding Chemical Stress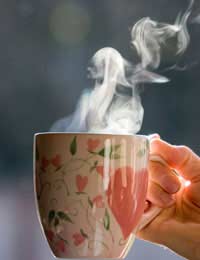 You know that work, family, and other types of personal relationships can increase your amount stress. If you are having medical or emotional problems, that too can cause stress. However, did you know that the chemicals that you put in your body could be increasing your stress level? The foods we eat, the liquids we drink, and bad habits such as smoking all put chemicals into our body that could cause adverse health effects, but we rarely stop to think that these chemicals maybe hurting us by increasing our stress level. By cutting down or completely eliminating these chemicals, we may be able to lessen the stress in our lives.
Caffeine
Before you grab that second cup of coffee to help you wake up, stop a minute, and think. Caffeine is a stimulant that we drink to raise our levels of arousal and awareness. However, while one cup might be okay, if you drink multiple cups of coffee or caffeinated soda each day, you may find yourself feeling twitchy, wired, and easily irritated. Switching to a decaffeinated coffee or soda can help eliminate these feelings of agitation and hyperactivity, thus lowering our daily stress level.
Alcohol
Many people think a drink will help them unwind after a long nerve-racking day. While this may be true, drinking too much can actually increase your stress level. How does alcohol increase stress? It reduces your effectiveness and disrupts your sleep. It can also harm personal and working relationships as well as cause medical problems if large amounts are consumed over a long period of time. It is okay to drink, but do it is moderation to keep your stress at a lower level.
Nicotine
Many smokers think just taking a quick smoke break will help relieve stress. Just like alcohol, this may be true…temporarily. However, nicotine also raises your heart rate, which can raise your stress level. If you smoke, take your pulse before and after smoking a cigarette and you will notice your heart beating faster afterwards. Many who have stopped smoking for period of time report that they feel more relaxed than when they smoked.
Sugar
Even if you don't smoke, when you are feeling down or stressed, you may run for something sweet - a chocolate bar, a cookie, or a piece of cake. Sugar can increase your energy, but it is only short term. When you consume large quantities of sugar, your body counteracts by secreting insulin to reduce the amount of sugar in your blood stream. However, after the levels are controlled, you will feel a dip in your energy.
Many of us exist today on a diet that is high in fat and sugar due to all the fast food we consume. This type of diet can create chemical stress that results in belly fat. Those suffering from belly fat may have a higher risk of heart disease, high blood pressure, and Type 2 diabetes.
In a perfect world, we would just be able to cut all these chemicals out and live a much healthier, stress free life. Of course, cutting these things out in the real world isn't quite that easy. Nevertheless, reducing your intake of these chemicals as well as increasing the amount of exercise you get can help keep your stress at a manageable level.
You might also like...