How Stress Affects the Body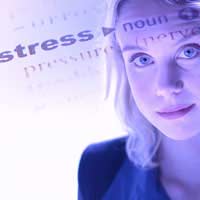 Stress is something that most people encounter on a daily basis. It can be work related, home related or caused by something else in one's life. The important thing is learning to live a less stressful life because stress can adversely affect the body in many ways.
Understanding Stress
What is stress? Webster's Dictionary defines stress as "a physical, chemical, or emotional factor that causes bodily or mental tension and may be a factor in disease causation." In real life that means it can be anything from the baby crying all day to your husband spending too much money to your boss yelling at you for something you did not do. How many times have you gotten angry when someone cut you up on the motorway? That is a form of stress. Too many of us let stress rule our lives, but we often do not realise the physical damage stress may be doing to us.
Stress and the Body
Once we are stressed, our body immediately begins to react. Humans have innately developed a "fight or flight" response to stressful or threatening situations over the years. Several things happen under stress:
Your heart rate increases
The blood flow to your brain and muscles increase dramatically
Digestion temporarily stops to allow for more energy
Muscle tension increases
Memory functions are heightened
Your breathing becomes more rapid, to get more oxygen to your muscles
On occasion, these responses can be good, but most of the time, it is merely an overreaction to a situation that causes this stress and it can eventually harm your physical health.
Stress and Illness
When you are constantly under stress, it raises your cortical levels. The corticosteroid hormone is very important to the body, but when we are stressed, so much corticosteroid is released it activates these bodily functions. They never quite have a chance to return to normal levels and thus causing many damaging things to occur. Stress and higher cortisol levels increase blood pressure, raise blood sugar levels, and can suppress the immune system, leaving you open to any number of other illnesses and ailments. This could mean catching more colds, but it could lead to more serious illnesses such as heart disease or diabetes.
Stress can also cause increased abdominal fat – a symptom that studies have linked to an increased chance of heart attacks and strokes. It can increase the levels of your bad cholesterol (LDL) while lowering your good cholesterol (HDL). It may also decrease your bone density and impair your cognitive performance.
How much cortisol your body releases in times of stress varies from person to person. We are all wired a little differently to respond to stressful situations, so something that may cause very increased levels of corticosteroid hormones to be released in one person may result in lower levels, if any, in another person.
Other Affects on the Body
Other than the physical functions carried on by our body, stress can damage our bodies in other ways. When we are under stress, we often tend to abuse our body. This can include poor lifestyle choices such as eating fatty and greasy foods, drinking too much caffeine or alcohol, or even abusing prescription or illegal drugs. All these can have a secondary affect on the body caused by stress.
The good news about stress is it can be reversed through many different means. You can learn to control your stress level through methods such as meditation, relaxation, yoga, deep breathing, and other forms of stress management techniques.
You might also like...