Home Sanctuary Space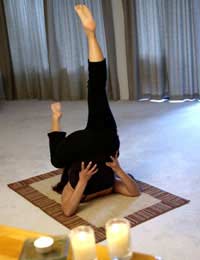 Creating a sanctuary in your home can provide you with a welcome retreat in order to relax and unwind by doing exercise, meditation, or listening to soothing music. You don't need a separate room or have a lot of space. You don't need to spend a lot of money. You do, however, need to put some thought into the kind of space that you want to create. One of the first things you need to do is decide what kind of space you want, what kind of activities you want to do in the space, and what would make it feel like a sanctuary to you.
Types of Spaces
There a many different kinds of spaces that can be used for a home sanctuary. Depending on how you want to use the space, you can dedicate an entire room, a part of a room, or just a shelf or table. You could also create many small spaces within your home. If you live with someone or have a family, you will need to figure out how to share these spaces with those you love. In some cases, you may need to create a portable space, pulling out elements to use when you want to enter your sanctuary.
A Whole Room
If you intend to practice yoga, do martial arts, or dance in your sanctuary, you will need a larger space where you can move your body without knocking anything over or banging your body against something. If you want to do body pampering, you may need to create a spa within your bathroom. Either of these spaces could also be used to meditate and relax.
A separate room is often ideal if you have the space. It can have lots of windows if you want lots of light or it can be windowless if you want to relax by candlelight. What you need to remember, however, is to make sure there is good air circulation. You might think twice about meditating in an empty closet with a candle if there is not good air circulation. When you breathe deeply, you want to breathe in healthy air.
A spare bedroom not only can give you space to move your body, but it can allow you to store all of your meditation and pampering gear there. You can decorate the walls with inspirational art and objects that give you pleasure to look at. You can install a stereo system so that you can listen to music or meditation CDs. You might wish to keep a small television with a DVD player there so that you can watch inspirational or instructional DVDs. Here, you can store candles, incense, and even your bath pampering goodies. This is especially important if you have young children in your home–or a dog that likes to get into your bath beads that you put on the edge of the tub.
Part of a Room
Most of us don't have the luxury of having a spare room to use for a workout room or meditation area. But you can use part of a room. You can use part of your living room or family room or bedroom. You can do yoga on the floor and meditate in the same space. You might put your candles and statuary on a dresser or small table. You can bring in a CD player into any of these spaces for ambiance and to help you relax. Though each of these spaces may be used for other things, such as sleeping, or by others, such as watching television, you can still use the space when no one is sleeping or watching television. Sometimes, though, you may need to schedule your time in the space in the early morning or late at night when others are in bed.
A Shelf or Table or Wall
In even smaller homes, you may only have a shelf, a table, or a wall and the floor in front of it. That may mean that you will need to limit your movements to yoga or stretching exercises. You can, however, mediate in such a space. Music can be brought in or played from another part of the room. You can also light candles on your shelf or table and display art on the walls.
Portable Space
Sometimes, it may be impossible to set up a sanctuary space because of where you live. If you live in a shared house, for example, you may not want your sanctuary materials left out for display since others might not understand your need for special objects to help you relax and meditate. You also may live within a large household and want to keep your things personal. (This is especially true when someone grows up with lots of siblings. It is often hard to keep what is yours your own.) Also, if you are working away from your home, you might need a way to keep sanctuary objects and tools in a convenient place.
In this instance, you can create a portable sanctuary space. Use a basket, small travel case, or plastic container to hold your sanctuary items. Put in candles, a lighter, incense, statues or art, oils, music, and reading materials. (If you expect to travel by plane, you probably can't take candles and a lighter or possibly even incense onto the plane. But you might be able to pack some of these objects in your checked bags. Check with your airlines first.) If you do yoga, a rolled yoga mat would complete your portable sanctuary kit.
Many Spaces
If you live alone or with a person who shares your interest in sanctuary spaces, you might also create a small space in every room of your home. Naturally, you would put your spa materials in the bathroom and include some aromatic candles. You could also keep a small CD player there also to soothe you as you bathe. You could have a small shelf or wall in the kitchen where you prepare food and put art objects or flowers that allow you to enjoy beauty as you cook. You can put art in every room and have access to soothing music.
Decluttering
No matter what area of your home you are using, you will need to declutter the space first to make it soothing. Clutter makes us focus on all the busy things in the space, not on the qualities that make it soothing.
Whatever space you use, make it yours by filling it with those things that give you pleasure. Appreciation of beauty is an aesthetic need we all need to pay attention to. Part of creating a home sanctuary is to help us step away from those things that give us stress and to step into a place of beauty, both in our surroundings and within ourselves.
You might also like...