Enjoying a Day at the Spa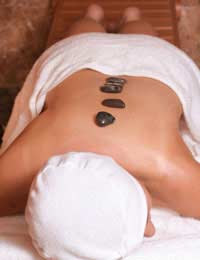 There are very few things in life as relaxing as enjoying a day at the spa. A day of being pampered and spoiled at the day spa can rejuvenate you not only physically, but mentally as well.
Choosing the Right Spa
To make sure you make the most of your spa visit, you should take care in choosing the right spa. Feel free to visit the spa before booking a day trip to make sure it offers exactly what you need. The staff should be friendly, courteous, and helpful to set the right atmosphere. After all, day spas are sometimes referred to as vacation spas because visiting one makes you feel like you have been on a mini vacation. Most spas offer massage therapists, estheticians, nail technicians, and even makeup artists. Most therapists at day spas are certified in their particular field, but you can always ask to make sure.
Above all, the spa should appear clean and sanitary. The overall atmosphere of the spa should be calm and relaxing. You may hear soothing music playing softly in the background and the lighting may be set at a low, pleasant tone. Many spas will have pleasant aromas that will help relax and calm you. Spas often offer hydrotherapy tubs, whirlpool tubs, steam rooms, saunas, hot tubs, steam cabinets, and Vichy showers.
Before Your Visit
There are a few things you can do before leaving for the spa to help make it a better experience. Drink plenty of water before you go to the spa to make sure you are hydrated. In addition, water has detoxifying benefits. Do not eat anything about an hour before you receive your massage.
Dress comfortably for the spa. You may be asked to remove your clothes for certain therapies, such as hydrotherapy, so you will want something easy to remove. Leave your jewelry at home if possible. Most spas provide small lockers, but it is usually just easier to leave your valuables at home. Another good thing to leave at home if you can is your cell phone. A day at the spa is supposed to be a day of luxury, not a day of the cell phone ringing constantly.
Arrive Early
Arrive early to the spa so you have time to get in the right frame of mind for your peaceful day. Once you get to the spa, if it is your first visit, tell the receptionist. If you have not been there before, they will probably give you a more detailed tour of their facility and may even have you fill out a overall health questionnaire.
Select Your Treatments
Because most spas offer many different treatments, they may have a menu from which you can choose the treatments you would like to receive that day. A massage is a good way to start the day as it helps you relax by getting rid of all the tension in your body. A facial will help exfoliate and deep clean your face. Some facials are even designed to help do away with sun damage.
A body treatment will exfoliate and soften the skin over your entire body - leaving you feeling refreshed and rejuvenated. Body wrapping helps stimulate your body, so it rids itself of toxins, excess fat, and trapped lymph fluids. Body wrapping can also help firm your body tissue and tighten your skin.
Be sure to talk to the technicians and let them know how you are feeling during the treatment. If something is too hot or too cold, or putting too much or too little pressure on you, be sure to tell your technician. Remember that giving your spa technicians a tip of 15% is appropriate.
When you are through with your day at the spa, take time to enjoy the experience before starting up your hectic life again. Spending the day at the spa can be a something you do alone or with a group of your closest girlfriends. Either way, visiting a day spa resort is a great way to spoil yourself and give you a break from your normal frenzied schedule.
You might also like...