Breathing Exercises for Beating Stress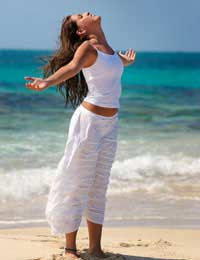 Learning to take control of our breath can help us learn to relax. By slowing down the breath we can calm our rapidly beating hearts and return our bodies to the pre-fight or flight status that we experienced before stress got the better of us.
Interestingly, when we slow the breath, we actually take in more oxygen. Most people only use one-seventh of their lung capacity when they breathe. By breathing more deeply, we can fill our lungs with more oxygen. That process in itself takes slightly longer to do than the rapid shallow breathing of stress; therefore, deeper breathing in general is a slower process that helps calm the body.
The benefits of consciously directing your breathing are reduced stress, improved sleep, clearer sinuses, relief from headaches, lower blood pressure, relief from menstrual cramps, and emotional calmness. Being mindful of our breath can also help us be more aware of our bodies. By learning to focus on the breath, we can learn to focus on the body itself. We can become aware of what is happening in our bodies and how different parts feel. We can center in on where we are feeling tension or little aches. We can know where our bodies are in space, where we are sitting, and who and what else is around us.
Using breathing to help us relax can also be a state of meditation. By focusing on the breath alone, we can block out our environment and even those things that are making us tense. We can breathe our way into a peaceful state. Some people even combine breathing with other forms of meditation, either as an introductory stage to their meditation process or as a vital part of whatever meditation technique they use. However, in order to deeply relax with breathing takes practice.
There are also many different ways to use breathing for relaxation. Deep belly breathing, counted breathing, breathing from one nostril at a time, and colour breathing are some of those techniques.
Deep Belly Breathing
Most people breathe by lifting the chest and filling the upper lungs. We think of soldiers standing at attention when we breathe in this way. This kind of breathing is not restful and doesn't expand the lungs fully. Deep abdominal breathing is the way to get the most oxygen into your lungs. It also is the breathing used in yoga practice and for Lamaze training for mothers-to-be. Lamaze instructors tell pregnant women that deep abdominal breathing not only relaxes the whole body, but helps to relax the abdomen so that mothers in labour don't tense up when they begin to have contractions.
To do a deep abdominal breath, breathe slowly through the nose to inflate the abdomen. Put you hand on your belly and feel it push out as you breathe in. Feel the lungs fill. Hold for a second or two, and then slowly release the breath through the nose or through the mouth.
Counted Breathing
This technique is excellent for relaxing at stressful moments or for beginning yoga practice or meditation. Take a deep cleansing breath through the nose and release it either through the mouth or the nose. Breathe in slowly for two counts, pause for one count, then breathe out slowly for four counts. Take another deep cleansing breath through the nose and release it. As your breathing deepens, increase the number of counts that you breathe in and out and hold and lengthen the pause. Remember to double the exhale counts. Exhaling is the act that really helps us relax our bodies.
Count Down
This breathing is good just before going to sleep if we are having trouble sleeping. Start with ten and count backwards. Ten represents how tense the body is at the moment. Visualise each number with each inhalation and exhalation. With each breath and each number, visualise less tension and feeling more relaxed.
Colour Breathing
This breathing technique uses colour to help us relax. Imagine breathing in a colour that fills your whole body. Use whatever colour fits your mood or the one you wish to create. Blues and greens are soothing, healing colours. Yellow and orange are bright, energetic, happy colours, symbolising illumination, insight, harvest. Begin by slowly breathing in and out. Each time you breathe in, visualise the colour that you have chosen filling your body. Keep doing this until you have achieved the state that you wish to create.
Single Nostril Breathing
This is a more advanced meditative breathing technique used by yoga practitioners. Place your thumb and forefinger of one hand on each side of the nose. Press your thumb against the nose, closing off one nostril. Breathe in through your open nostril. Then press your forefinger against the other nostril, closing it off, and release your thumb. Exhale through the open nostril. Breathe in and out, alternating nostrils. This is kind of breathing can open up the sinuses as well as relax your body.
If you feel blocked creatively, blow your nose, then breathe through each nostril separately. The concentration of this activity and the added blood flow helps stimulate creativity.
Sometimes, we can become so tense, we forget to breathe well. By putting a note somewhere prominent like the fridge or on your desk, we can remind ourselves to breathe. We can be aware of our breathing when we deal with others, especially those who create stress in us. While listening to other people on the phone or at work, we can learn to breathe deeply and let our bodies relax. By taking two-minute breathing breaks often during the day, we can keep ahead of stress. Then, when we get home from work or at the end of the day, we can dedicate a special time to concentrate on our breathing and calm ourselves from our busy day.
You might also like...