Creative Visualisation for Stress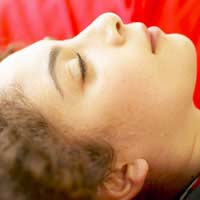 One useful meditation tool to combat stress is Creative Visualisation. This process uses our imagination, our memory and our relaxed state to put ourselves into a future we want to achieve or a place where we have experienced happiness in order to relieve our stress. Creative Visualisation is used with cancer patients to help medication work more efficiently, sports teams to improve performance, dancers to improve technique, artists to focus their work, and business people to sharpen skills and achieve goals. It can also help students visualise themselves being successful completing a test or project, speaking in front of a group, or trying out for the school play or the football team.
Creative Visualisation can be done anytime we can close our eyes and let go of the world for a couple of minutes. We shouldn't attempt Creative Visualisation while driving a car, operating machinery, or when we are supposed to give someone or something our entire attention. Some of the best times to do Creative Visualisation is just before we go to sleep or the first thing in the morning. Often, a helpful time to do Creative Visualisation is at work during mini breaks where we just close our eyes and visualise.
Types of Creative Visualisation
There are six main types of Creative Visualisation. They have a variety of purposes, but generally people use only one or two types. Other kinds of Creative Visualisation are used, but often are adaptations to these main types.
Special Place
In this type of Creative Visualisation, we try visualise ourselves in a relaxing environment. Sometimes, it's a place we have been or a place we would like to be, such as a secluded beach or a cabin in the mountains.
First, we relax our bodies by closing our eyes and breathing deeply. Then in our minds, we create this special place. We can construct this space from bits and pieces of places we have been, movies we've seen, places we've read about. It is much like the daydreaming we did as children. Once we have the place selected and held in our minds' eye, we flesh the location out with any details that will make it our special retreat. For example, if we are at a beach, we can make the sand white or black like the beaches on a volcanic island. We can also adjust the amount of breeze playing across our bodies and the amount of warmth from the sun. We can also add the sound of the ocean or sea birds. We could add tropical music or our favourite swimsuit or lounge chair–or one that we'd like to have. The point is to make it as real and as perfect as we would want.
In addition, we always make this place a safe place. We cannot be disturbed in this special place. There are no dangers here. Everything in the environment is friendly and there to make us feel pampered and special.
For some people, it might be wading in a mountain stream and visualising themselves fly fishing, swaying with the graceful rhythm of casting out and reeling in. It can be any number of other places where we feel at peace and feel pampered.
Once we have this special place constructed, whenever we want to relax or need to relax, we can close our eyes and just go to this special place. It will be like taking a mini-holiday, without the expense.
This technique is especially useful during a stressful day. A five-minute Special Place meditation can thoroughly refresh us and help us either finish our day's work or prepare us for leaving our work at the office. It can also be used just before bed to help us sleep.
Achieving a Goal
In this Creative Visualisation method, we visualise ourselves successfully achieving a goal. These goals can be related to school, work, or to something more personal. It could also be interpersonal, such as asking for a raise or tackling a difficult problem at work or home. This kind of Creative Visualisation should be done more than once, preferably often for several days if the goal is a troublesome one.
Mental Rehearsal
Mental rehearsal is related to using Creative Visualisation to achieve a goal. Here, it is used to see ourselves accomplishing a task. This meditation has three parts: before a task, doing the task well, and how we'll feel after the task is done. There are lots of applications for this in school, work, and in skills like sports or dance. Sometimes, people use this technique before beginning a creative project. This technique is also used by executives before doing presentations. Not only have they rehearsed their speeches, but they add a level of confidence by seeing themselves successfully delivering the presentation through this mental rehearsal.
Setting Desired Conditions
We can use this Creative Visualisation method to program what our lives can be like. It is similar to using meditation to achieve a goal. For example, at bedtime we could visualise waking up refreshed and alert for the day. We can also visualise being strong or losing weight or breaking a habit. This programmes the brain to certain expectations, and, often, the body follows along with what the brain believes. Now, this won't help someone lose fifty pounds while eating super-sized hamburgers everyday. But, sometimes, it so convinces the body that it is losing weight that the body begins not to crave hamburgers--or so many of them--and the body does indeed shed pounds.
There are a number of life coaches who use this method in conjunction with writing out goals as if they have already happened. For example, if a person wants to lose twenty pounds to weigh 130 pounds. Upon making that goal, some coaches would ask the person to write ten times every morning: I am a happy, active 130 pound person. Those same coaches would also have the person visualise being that size and moving around, feeling how that size feels.
Guided Imagery
Sometimes, under the guidance of a skilled practitioner (counsellor, spiritual leader, or even meditation facilitator), people can use Creative Visualisation to gain inner guidance. The caveat here is to find someone trustworthy who can help us do this safely. This is an advanced Creative Visualisation method used to help us solve problems or delve deeper into our spiritual lives.
Inner Guide
Another way to find deeper answers is to bypass the spiritual leader and do it ourselves. We can do this when we want to ask questions of our inner self while in a relaxed state. It's rather like a waking dream. Dream states often can reveal information the waking mind doesn't notice.
Philosopher Rollo May wrote about creativity and how scientists often had unconsciously guided their dreaming to solve the complex problems of their field. For example, when one of these scientists couldn't make headway in an experiment, he went to bed still thinking about the problem. During the night, he had a vivid dream of exactly where the problem was. On awaking, the scientist suddenly knew what to do next. His problem was solved.
This Creative Visualisation method is a bit more interactive than the lucid dreaming scenario just described. Here, in a deep relaxed state, created by deep breathing and physical relaxation, we visualise a path and walk down it. Along the way, we meet an old wise woman. We ask her a question. She tells us something. And, then we open your eyes. This Creative Visualisation method uses our own subconscious mind to answer our own questions though the persona of the wise woman.
Any of these techniques can help us manage stress. Those that help us solve problems also help us reduce stress because when we have answers and goals, we don't worry so much about our problems.
There are also several recordings available to help with creative visualisation and meditation.
You might also like...