What is Meditation?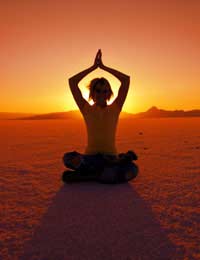 There is nothing spooky about meditation. It is simply a method of diverting the mind from external events to internal awareness. Practicing meditation leaves a person feeling calm and peaceful and is a good tool to manage stress. For many people, meditation helps them become deeply aware of their bodies and calms the mind. Other people feel better able to connect with nature or some spiritual entity when they meditate.
Forms of Meditation
There are many different types of meditation, but they all fall into three main forms. They are white meditation, visual meditation, or guided meditation.
White Meditation
White meditation, such as Transcendental Meditation (TM) that was popular in the 1960s and 1970s, requires that the practitioner make the mind blank. That is supposed to create a whiteness in the mind's eye; hence the name "white" meditation. This allows the person to free the mind of stress and concerns. These moments of relief from thinking about stressors as well as the calmness created by sitting in meditation is a great stress reducer.
Visual Meditation
For those of us whose minds will not shut down enough to become blank, visual meditation is a viable meditation method. This practice involves sensing tension in the body, relaxing muscles, and then visualizing a special safe place within the mind. This place can be a place you have been to in real life, or it can be a totally imaginary place. While in a state of relaxation, you actively engage this inner landscape and enjoy the peace you have created there.
Guided Meditation
The third type of meditation, guided meditation, is a form of visual meditation. A meditation leader guides you into a relaxed state and provides you with a visual landscape. Sometimes the meditation leader is an instructor with a class or can be someone on an audiotape or CD. These meditations can be simple relaxation exercises and a suggestion for you to go to your special mental place, or they can be quite complex, having you move through an inner landscape, encountering people or animals, and interacting with them. Often this kind of meditation helps you solve problems or answer spiritual questions.
Word Focus
Traditionally, most meditation techniques have required some type of focus in order to enter the meditative state. Transcendental Meditation (TM) usually uses a word, often repeated over and over silently in the mind. This word is called a mantra among those who practice yoga meditation or Buddhist meditation and can be spoken or chanted.
Visual Focus
Looking at an image, an object, or even a candle flame is another way to prepare the mind to enter meditation. Images can be sculptures, paintings, photographs, places in nature, or intricate patterns such as painted Mandelas used by people who meditate in Eastern traditions.
Focusing on an image or object helps us clear the mind and allows our bodies to relax. Then, we can go into a deeper meditative state, either as a form of white meditation or as a visual method.
Some people can go into deep meditation by looking at the patterns in ceiling tiles or the holes in pegboard. Children can create a relaxed meditative state by looking at a clock or a timer filled with colored liquid. Retro lava lamps and wave machines are also great visuals for helping people relax and calm the body.
Movement Focus
Some forms of meditation use movement as the means to enter into meditation. Sufi meditation involves twirling movement or ecstatic dance. Other religious beliefs have also used ecstatic movement, including some Christian groups.
Musical Focus
One last meditation focus is to listen to soothing music or nature sounds either in the outdoors or on recordings. Some people like to listen to wolves or ocean waves or even rain. You can get recordings of these nature sounds to use with your meditation.
Location
Some people can meditate anywhere. However, most people prefer to sit in a chair or lie on the floor on a mat. It can be done in bed or leaning against a wall. It can even be done while in a yoga posture or while doing Tai Chi.
Using an external visual focus or visualizing an inner place are convenient tools to use anytime. This is especially good if you are in a stressful situation at school or work. By simply breathing or focusing on a picture in a room (or even a corner of a desk or the boss's glasses), you can put yourself into a deep state of calm. In effect, you are meditating.
You might also like...