Recreation vs Exercise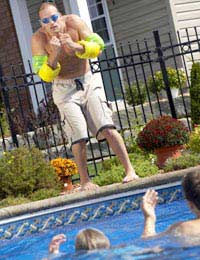 Health professionals have told us that physical activity is good for us and that it can relieve stress. It does this by working the muscles and releasing endorphins in the brain that help our bodies feel happy and peaceful. Still for many of us, physical activity or exercise recalls gruelling physical education classes in school or the embarrassment of trying to play organised sports. These memories can make exercise a chore and an additional source of stress if we try to take up a sport or join an aerobics class. We can sometimes feel awkward, uncoordinated, or fat.
Recreation
How then can we get the benefits of physical activity without the stress or horrors of the gym? The answer is recreation.The Merriam Webster dictionary traces the word recreation to the Latin words recreatio, which means "restoration to health," and recreare, which means "to create anew, restore, refresh." They combine these roots into the following definition of recreation: "Refreshment of strength and spirits after work; a means of refreshment or diversion; a hobby."These definitions put a new spin on physical activity. If we consider exercise as recreation, we open new ways of looking at movement and finding the types of activities that can refresh us, divert us, and help us relax.
Categories of Recreation
We seek out different forms of recreation for different emotional benefits. Some activities revolve around socialising with others. People who seek this join classes in aerobics, yoga, dance, or martial arts. These people also take part in organised sports of some type, even if it's only shooting hoops or playing soccer with their friends. Other people seek recreation that allows them to explore new places. These people may enjoy walking tours, hiking, or biking. Other people enjoy the internal experience of exploring what their bodies are doing. These folks enjoy yoga, dance, running, and some more meditative martial arts.
Of course, there are also people who participate in physical activity for purely competitive reasons. They thrive on the urge to win. Others savour the thrill of risky activities such as bungee jumping or sky diving. These people find the added adrenalin rids them of the accumulated stress in their bodies, even if that stress was put there by adrenalin from a different source.
Play
Recreation should be fun. It should be play. Many psychologists consider play to be an essential quality of living beings. Not only does every society in the world play, but so do animals. We all recognise that dogs and cats play, but so do marine mammals such as dolphins. Even some professional scuba divers believe that some species of fish also play. Physical activities we choose should have an element of fun built into them. We should do them because we enjoy them and have a great time moving our bodies in the activity. If we don't like competition, by all means we don't have to engage in an activity where competition is the cornerstone of our play. We can, however, enjoy playing a game where there is a clear winner if the point of the game is just a friendly challenge and not focused on winning at all costs.
Sometimes, even as adults, we just enjoy being silly on a playground, chasing each other or our children and growling like lions. This not only can be a great stress reliever, but also the fun we experience with our loved ones could just be the highlight of our day.
Since we need to move our bodies for our physical and emotional health, we should find activities that we enjoy doing and that refresh us. Recreation should be fun and not a chore. In this way, we are more likely to keep doing these physical activities and will reap the benefits.
You might also like...