Is the Gym the Only Place to Go?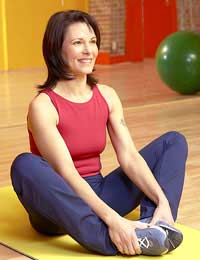 When we think of exercise the first place that comes to mind is the gym. This has become the trendy new spot to meet your next rock-hard honey. Unfortunately, for many of us who haven't exercised in a while or who may seriously compromise the safety limits of Spandex, a gym is anything but user friendly. Not only do we have to think about what others will say looking at our older, flabbier bodies, but we almost need a personal trainer to get us through the complex workouts of exercise machines. Finding other alternatives to puffing in an aerobics class or getting whipped by a weight machine is essential.
Home Gym
A natural alternative to driving to a gym is to outfit your home with exercise equipment. You can buy a treadmill, a stationary bike, or an elliptical trainer, or any combination of machines. This way you can exercise while watching television or looking out of your living room window at the view. It is convenient because you don't have to drive to the gym and find a parking place. You also don't have to wait to use a machine, and you can shower afterwards in your own home. Exercise equipment, however, is an investment, though you can buy much of it used now. You also have to have room to operate it and to store it.
Studios
An option to a gym is taking classes at a studio. You can take up various forms of dance or try your hand at Pilates or Yoga. You could go to a dojo to learn some type of martial arts such as Karate, Tae Kwan Do, or Judo. You could also take classes in a community centre to learn Tai Chi or any of these other arts. These types of classes can be just as strenuous as a gym, but they are taught at your own pace. Sometimes, learning a skill is a lot more fun than working out on a machine.
Sports
Another gym alternative is taking up a sport. Though some of these activities will be in a regular gymnasium or recreation facility, not a modern workout centre, they can also be a lot of fun. You can take part in basketball, volleyball, racquetball, handball, or tennis. You can also go bowling or take up golf. Even miniature golf will have you walking a lot to cover all of the holes in the arcade type course. You can also rollerblade, ski, snowboard, or bike. Some of these sports will take you outdoors and others can be done inside. You will need a certain amount of skill, but you can take lessons.
Outdoors
Probably one of the best alternatives for the gym is being outdoors. You can walk almost anywhere as long as the weather permits. You can garden or play with your children or run with your dog. You can go hiking and camping. You can also learn to rock climb. Even in bad weather, you can walk inside a shopping centre or even pay to tackle a special climbing wall in a recreational facility. You can also swim in a lake or in the ocean, if they are nearby. Or, you can swim in a community pool or a local college facility.
The beauty of exercising outdoors is that you don't have to pay a membership to enjoy the sunshine and the fresh air. Usually, you don't have to even buy any equipment. You can just use your own two legs. And, you benefit from the vitamin D in the sunlight and the great air outdoors. In addition, actual load-bearing exercise in moving from one place to another is better for your bones and your muscles than using a treadmill or elliptical trainer. Besides, you get to smell the flowers along the way.
There are many options to exercise other than a membership at a gym. You can work out at home, in a studio, take up a sport, or enjoy the outdoors. Even for fitness pros finding variety in an exercise regime is vital to staying on track.
You might also like...