Physical Signs of Stress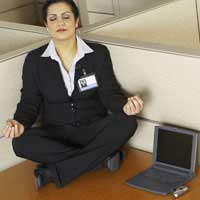 Chronic stress is stress that persists over time and can produce many changes within our bodies. The continuing bombardment of the stress hormone cortisol and neurotransmitters, particularly dopamine, norepinephrine, and epinephrine (also known commonly as adrenaline) puts a strain on nearly all of the systems in our bodies. This produces changes in those systems that can affect our emotions, our cognitive functions, and even our spiritual selves while wreaking havoc to our immune systems. Depending on the severity of the stress, how long it has been going on, and how well the person has been able to deal with it, a body under stress can demonstrate a variety of physical symptoms.
High Blood Pressure and Circulation
Because the stress hormones and neurotransmitters increase the pumping of the heart and blood flow throughout the body, often people suffering from stress have high blood pressure and can have heart problems. Some heart attacks are stress-induced. Even if their hearts are not damaged, some people may experience their hearts racing. This puts strain on the body.
Despite having increased circulation, some people have cold hands and feet. They may also feel colder or warmer than they usually do.
The Brain
Stress can also produce a variety of headaches. Because the blood flow is increased, some people who experience migraines may find that they have them more frequently or more severely when they are stressed.
Some people also may feel lightheaded and dizzy. They can also experience fuzzy thinking and even blurred vision.
Digestive Problems
Many people with stress experience weight gain or weight loss. They may also complain of indigestion, heartburn, or other intestinal problems. Though the majority of ulcers diagnosed today are the result of H. pylori bacteria, some ulcers and gastritis can be caused by stress and certainly are complicated by it. Some people under stress experience irritable bowel syndrome, a condition marked by frequent bouts of either diarrhea or constipation or both without a bacteria or other medical cause.
Reproductive Issues
People with chronic sometimes have sexual difficulties. Women's menstrual cycles can sometimes be disrupted, having longer or more frequent periods. Some women may even stop having periods or have difficulty getting pregnant. Men sometimes experience erectile dysfunction as a direct result of their stress or as a by-product of high blood pressure or some other disease or disorder that is stress-related.
Muscular Symptoms
Some people with stress will experience muscle trembling or shaking that is due more to the continued rush of adrenalin throughout the body. Other people complain of neck pain or stiffness. Still others have extreme lower back pain. If there is a spinal problem such as a herniated disc, stress can compound this problem.
Fatigue
Many people with stress say that they feel tired all the time. It is sometimes more than overwork or doing too much. It really could be chronic fatigue that is related to not being able to end the stress response. Other people feel fatigue because they can't fall asleep at night because their bodies are still going full tilt. Not only can't they shut off their minds, but they can't slow their metabolism down enough to fall asleep. Still others wake often during the night because they are fatigued or they have worries that even invade their dreams.
Teeth Grinding
Some people cope with stress by grinding their teeth. This is a condition called Buxism. Doing this can damage the jaw as well as grind down molars and shave the backs off front teeth until they are paper thin. This causes problems chewing and increased dental bills because worn teeth are more apt to break.
Immune System
Finally, stress can compromise the immune system. This lays the body open for bacteria and other sources of disease and infection to take hold. People with stressful lives often have frequent colds and flu. They have more flare ups of arthritis. They can also have frequent bouts of eczema and psoriasis. In addition, people with stress are at higher risk of developing certain cancers. Though a direct link hasn't been scientifically proven yet, many researchers do see a link and understand that stress does complicate any illness a person already has and can make some conditions worse.
Some of these physical symptoms, especially back pain and irritable bowel syndrome, are said to be psychosomatic conditions. In other words, there are psychological factors that cause these and other symptoms. These people experience very real pain and discomfort. And sometimes, the conditions themselves become contributors to their high stress levels.
This is why it is important for us to find ways to manage our stress daily so that we don't fall victim to something more serious.
You might also like...