Maintaining a Support System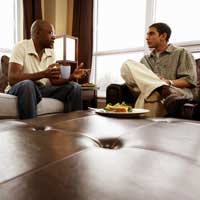 Having a support system is essential for us to manage the stress in our lives. The people we choose must be those we trust and who can listen to us or offer a shoulder to cry on. They can also be the people who make us laugh and help us enjoy activities. These folks become vital to our lives and our emotional well being. Once we have gathered people into our support network we need to maintain that network.
Significant Others
Those who are closest to us will most likely be the centre of our support system. That usually means our spouses, partners, or significant others. These people are those that know us best. We need to be open with our loved ones, letting them know what is troubling us. But at the same time, we need to make time to enjoy their good company. We need to allow them to make us laugh and amuse us.
Though we may share our darkest thoughts with these important people, we should also be aware that if all we talk about with them is how badly we feel or how awful our work situation is, this may define what our relationship is about. We need to be able to share openly with the other person, but we should listen to what the other person has to say. We need to take time to cultivate the relationship we have and let it rise above our worries and troubles.
One way to do this is to have a regular date with our significant other. Yes, it can involve physical intimacy, but sometimes a very stressed person may find themselves sexually impaired or disinterested. A quiet dinner in a restaurant with ambiance, a hike in the woods or a trip to the cinema can be opportunities to enjoy each other in an environment that is not routine.
Our significant others can also help us share household duties and child care. If we have discussed who prefers what duties and who can fit them into their schedule, we can balance those duties so that it isn't a burden for just one. We should also probably schedule a couple of weekly activities that we can do with our significant others. It might be digging the garden or folding the laundry or making a meal. Whatever it is, it can be a time to laugh together and share the work.
Friends and Others
One danger many people have when they become very stressed is wanting to withdraw from others. They don't feel good about themselves and therefore don't want to be around people. Though quietness can be good for meditation or inner work, if we make a habit of avoiding people, we are not letting our support systems work for us. We need people whose views can show us our world in a different light or whose voices neutralise the negative things we've heard others say about us.
Therefore, we need to keep in contact with friends and others who share common interests with us. We need to go to our hobby or club meetings regularly, even if we feel depressed. The people who enjoy the same things as we do can help us find joy in those things even when we feel badly. And, there always seems to be laughter in a group.
Moreover, we should go out with friends whenever we can. That doesn't mean we have to drink and party with them all the time, but we should spend time with them, away from our homes and workplaces. We could go to the cinema, see a band, or take in a gallery showing. It is enjoying our friends and sharing an experience together that's important.
Support at Work
Though the workplace may be where we experience the most stress in our lives, it can also be a place where we can call on others to help us. This does not mean taking advantage of colleagues, but delegating tasks to their strengths. Secretaries, paralegals, and other support staff can do some of the smaller tasks that crowd our day. We don't have to do it all ourselves. If we ask with respect, we can often motivate people to help. But, we should make sure that we don't ask someone to do something that would result in added stress or overtime for the person.
Avoiding Burnout
One of the things we need to avoid is overburdening anyone in our support system. Those close to us are always willing to help, and we should show them our appreciation. There are others we call on in emergencies for carpooling or watching our children. These are the people who might begin to feel used if we call on them repeatedly. We should try to rotate the people on our emergency lists and not ask them for favours too often. Also, we should be willing to return the person's kindness and offer to do something in return or be available when they call us for help.
To maintain a support system, we have to regularly connect with the people in our networks and appreciate each one of them. We also need to respect their time and what they do for us. Having a supportive network can sustain us and help us not only manage stress but find more joy in our lives.
You might also like...