Finding a Support System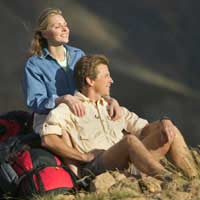 One way to deal with stress in our lives is through the help of a support system. The people in that network can help us cope by listening understanding, encouraging, and amusing us. Who we include in that support system depends a lot on how helpful they can be to us. That doesn't mean that we need to be mercenary about selecting friends, family, or strangers to help us. We just first need to determine what we require and then look around us to find out what people can help us the most.
There are three areas that we all could use support with. These are physical well being, emotional well being, and spiritual well being. Within these areas, there are people who can help us. We just need to be creative in finding them.
Physical Well Being
Finding someone to help us maintain our health usually involves having an open relationship with medical professionals. Doctors and nurses can help us keep our diets on tract and monitor any medications we might be taking. They can also help us find resources within the community to help with exercise, nutrition, or emotional issues. A patient doctor can also be a good listener and help us air our anxieties over a number of issues.
In addition to health care professionals, other people can help us with other health needs. Personal trainers or exercise coaches at fitness centers can encourage us, and so can a neighbor, friend, or family member who acts as an exercise buddy. For the best results, we need to pick an exercise companion who is at the same fitness level as we are. Someone who is too advanced may be impatient with us and push us too hard or may feel that we are holding them back. That won't feel very supportive.
Other fitness experts can help us, too. They can be yoga teachers, dance instructors, or martial arts senseis (teachers). These people help us fine tune our techniques so that we can not only stay active, but tone our bodies and have fun.
Family members can also join us in physical activity. They can also help us prepare food that is nourishing and help us pause to enjoy it. Members of our families can also keep us on track about taking medications, doing exercise, or getting our checkups. They shouldn't nag, but support us as we make changes in our lives.
Emotional Well Being
Having someone to listen to us can often be the best medicine. A co-worker, friend, or family member can be a good sounding board about work issues and even personal problems. However, we need to choose these people with care.
Since we are voicing our deep concerns, we need these people to be discreet and trustworthy. We don't want to rant about the boss and then find that our co-worker has given our employer a complete blow-by-blow of your reaction. This is especially true for personal problems. We want to be able to speak about them freely without having the world know our business. We also want to choose people who are sensitive to what we say and who are good listeners. Good friends who know us well will often tell us when we're overreacting or when we need to seek professional help. If we need to seek out a therapist, we can sometimes ask people we know for recommendations. Our physicians can also point us to people they trust.
Spiritual Well Being
Usually when we talk of spiritual help, we immediately think of clergy and church related resources. Clergy are good choices because they are often trained in pastoral care and are good listeners. Prayer groups and other spiritual networks can also help by offering support and prayer.
Equally important to our spiritual well being, though not first on our lists, are creativity and having fun. These are often relegated to emotional well being, but they come as close to healing the heart and soul as other conventional spiritual resources.
With that in mind, we need to find out what areas of our lives we can feel creative in. Do we have interests in art or music or cooking or collecting things? Do we enjoy fly fishing or skeet shooting or playing chess? Seeking out fellow enthusiasts in classes or clubs can help us put aside our concerns over stressors and help us lose ourselves in things we enjoy doing. Perhaps we enjoy modern art. We can take classes in painting or art appreciation. We can visit galleries and museums. In all of those places, there are others who share our interests. Talking with them can help us detach from the stress. One or two of these fellow enthusiasts may also be a good listener who might want to talk about other things as well.
Finally, we can seek out positive people who make us smile and who might even help us laugh. These people can fill our lives with joy just by their presence. And, they don't have to be bosom friends. The security guard at our office building might be an especially cheerful person, who brightens our mornings. There might be a special checkout lady in the supermarket who always makes us smile. There could be a parent who greets his child at daycare as if he's been away for months. Seek these people out. Observe them, and absorb their joy.
There are people all around us who can become part of our support system. All we need to do is find them.
You might also like...