The Importance of Friends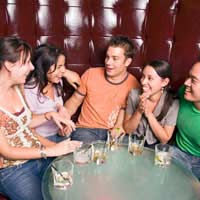 When we were very small, we realized that having friends was important to us. Some of us even had imaginary friends or our beloved pets became our intimate pals. Sometimes, even our teddies and other stuffed animals snuggled with us at night and listened to our dreams and secrets. The need for friends continued as we grew into our teens and began to find our own identities. Friends were a big part of forming our personalities and supporting who we had become. As adults, it is still important for us to have friends. Our spouses often are our most intimate friends. But friends, outside of family bonds, can be our greatest comfort and allies.
What Are Friends
Friends are people who like us in spite of our faults and who listen to us and tell us the truth. Friends support our decisions and tell us when we're foolish. They laugh with us and share our grief. They are companions and share our interests. They argue with us and stimulate our minds. They are people we aren't afraid of telling our secret wishes to or what is really on our minds.
Number of Friends
You don't have to have many. Sometimes, one good, true friend is all you need. At other times, it's good to have a group of friends so you can be a part of the bond among you without having to work so hard at friendship. You all then share a part of the duties of being friends. Sometimes, you're the one at the center of attention. At other times, you can just go along. But all of you are loyal to each other and help each other when you can.
How Friends Help
Friends are your support system. When you can depend on friends, you feel safe and cared for. You belong. During times of conflict, prisoners of war had a list of things that helped them survive. At the top of the list was a support system. Having a buddy who shared their will to live and helped them see the positives in their situation was essential to their survival.
Friends offer acceptance and emotional support. They also help occasionally with the practical aspects of day-to-day living, cooking a meal (or taking you out), helping with chores, or giving you a lift when you need one. Friends also are there to offer advice, an ear to listen, or a shoulder to cry on. Friendships help us feel connected and less isolated. And, according to Pamela M. Peeke, MD, a professor of medicine at the University of Maryland, friends can even bolster our immune systems.
Friends and Stress
Friends also help us reduce stress. Not only do they listen to us when we need to vent, but they also provide much needed diversion from what is stressing us. Participating in shared interests and activities with friends helps us forget about problems at work or at home. For a brief time, we can lose ourselves in a pleasant activity and perhaps laugh and breathe easier.
Gender Differences
Interestingly, a recent study by Pennsylvania State University revealed something that men and women have probably known for a long time. Men and women react differently to stress in a social context. Men have a tendency to either go off by themselves or engage in a highly competitive sport with other men. Women seek each other out and commiserate, either engaging in a group project (charity work or the old fashioned sewing circle) or just a confab together (going for coffee or having a girls night out).
Regardless of gender, friendships help lower our blood pressure, our heart rates, and our cholesterol levels. The Nurses' Health Study at the Harvard Medical School concluded that, for women, not having friends was as bad for their health as obesity or smoking. In fact, friendships can help us live longer, and they can most definitely help us manage stress.
You might also like...