The Importance of Colours in Feng Shui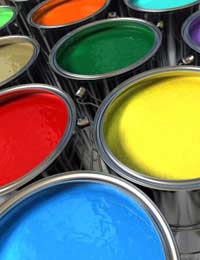 Many of us don't realize it, but colours can have an affect on us. Think of how you might feel if you saw a beautiful red rose, and then think of a black chair. The rose may give you a warm feeling while the chair may give you a cold feeling. Colours are a great way to help produce positive chi energy in your home or office.
A bagua map is used to help determine where the colours are best placed in your home or office to enhance certain areas of your life. The map is divided into nine sections: career and life path, inner knowledge, health and balance, family, money and abundance, reputation, relationships, creativity and children, and helpful people and travel.
Standing at your front door and facing into the room, you should be able to map your home or office:
Brown and Black
The centre front section is associated with career and life path. Dark colours such as black and brown should be used if you are looking for a job, planning on changing jobs, or wish to go further in your current position.
Gray
The right front section is associated with helpful people and travel. Gray is a good colour to use in this section when you need help from someone in any aspect of your life or if you want to go travelling or are even planning on moving.
White
The right centre section is associated with creativity and children. Use white in the right centre section to increase your creativity, get pregnant, or learn how to deal with current problems you may be having with your children.
Pink
The back right section is associated with relationships. Pinks in this back right section can help you find love or enhance the love you already have.
Red
The back centre section is associated with reputation. Are you seeking fame or hoping to solidify your reputation, try incorporating reds into your back centre section.
Purple
The back left section is associated with money and abundance. Use purples in your back left section to help you not only make more money, but also understand how to make the most of what you do earn.
Green
The centre left section is associated with family. Greens should be used in the family section to strengthen family ties, whether it refers to immediate family, extended family, or merely friends who you have come to feel are part of your family.
Blue
The front left section is associated with inner knowledge. Blues should be used in the inner knowledge area, especially if you are hoping to make better grades, learn more about your craft, or gain insight into a personal problem.
Yellow
The centre itself is associated with health and balance. The centre of the house should have something yellow in it to help increase the positive chi and help improve your health and balance.
When using colours in feng shui, it doesn't mean that you have to paint the walls these colours. Merely focus your interior design including paintings, furniture, plants, and rugs on these colours. And remember that you don't have to have these colours in every section; just the areas where you feel you need enhancement.
You might also like...