Bedroom Tips for Relaxation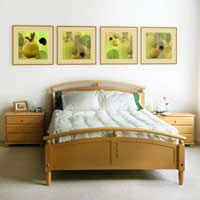 Using basic feng shui principles in your bedroom can guarantee you of a harmonious and relaxing place that is flowing with sensual energy. Feng shui in the bedroom can make you feel both calm and excited, jazzing up your love life. You will find yourself getting better sleep and awaking feeling refreshed and stress-free. Here are a few feng shui tips to make your bedroom a more inviting, enjoyable place:
The Bed
You should be able to get into your bed from either side. Having one side up against the wall is bad feng shui and will result in reduced relaxation. You should also have a side table on each side of the bed for balanced energy. As for placement, don't place your bed in a position that gives you a direct view of the door. Angle it so you can see the door, but are not in the direct line of it. Being in the direct line of the door can cause stress and health problems.
You should have a sturdy mattress, solid headboard, and good sheets made of natural fibers to help create a relaxing atmosphere. Never allow your bed to sit on the floor. Raising it off the floor allows positive energy to flow underneath you during sleep.
Windows
If at all possible, don't place your bed under a window. You need both support and security at night when sleeping. However, having a window behind you drains your personal energy. It is best to have a solid wall behind your bed. If you cannot do that, make sure you have a solid, strong headboard. Also, make sure you window is covered with heavy curtains to give you a solid feeling.
It is, however, a good idea to open your bedroom windows from time to time to allow fresh air into the room. This allows new energy to flow in as long as the air is fresh and not filled with pollutants.
Televisions, Computers, and Exercise Equipment
Get rid of the televisions, computers, and exercise equipment in your bedroom. The bedroom should be for relaxing and all of those items can drain your energy.
Lighting
Lighting is very important in feng shui, but in the bedroom, it is best if you have dimmer switches that allow you to set the amount of light. Candles are a wonderful source of light in the bedroom provided they don't contain toxins, which can pollute the air.
Colours
Use soothing colours in your bedroom to help you achieve the utmost relaxation when there. The best colours to choose are skin tones such as white, tan, beige, and brown, although green and blues are relaxing as well.
Mirrors
Some may think having a mirror facing their bed is a great way to invoke passion in the bedroom, but it is bad feng shui. It is said that a mirror facing the bed can bring the energy from another person into your bedroom – probably not a desired effect! For a more relaxing atmosphere, move the mirror. If you have closet doors that are mirrored, set up a curtain so the mirrors can be hidden at night to preserve the positive energy flow.
Additional Tips
Avoid clutter in your bedroom. Clutter traps the positive energy and prevents it from flowing, so for better relaxation, try to rid your bedroom of all unnecessary junk. Your alarm clock should be moved at least two meters away from the bed to reduce the electromagnetic field, which can disturb your energy while sleeping. If you have a bathroom off your bedroom, keep the door shut when sleeping.
It is easy to set up feng shui basics in your bedroom. These designs can help you awake feeling more relaxed because you have restored your energy during the night with a good night's sleep.
You might also like...