Home Office Feng Shui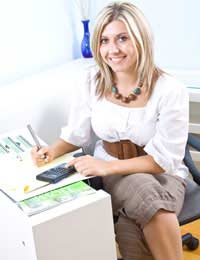 Today, many people are working from home rather than commuting to offices. They may have a home office set up, but are they achieving the most harmonious design through the use of feng shui?
Working at home can provide obstacles such as separating work from home life, so it benefits one to set his or her office up using feng shui basics to ensure a pleasant work environment filled with positive energy.
Positioning
It is best to set up your home office as far away from your bedroom as possible. This prevents your sleep energy from mixing with your work energy and making you less productive and sluggish. If you have to have your home office in your bedroom, try creating a separate workspace by putting up a screen.
You also want to set up your home office up near your front door because that is where the energy source flows into the house. If your office is in the back of the house, you won't receive as much energy. If you have a two story house, try to keep the office on the ground floor. It is not advisable to have a home office in the basement. Again, this is because it is difficult for the energy to flow there.
Placement
There are many dos and don'ts for placement of your desk. There are many dos and don'ts for placement of your desk. Placing your back against the wall allows you a more secure feeling than having your back towards the door. If you have to sit with your back to the door, do place a mirror in front of you. This allows you to see anyone walking into your office. Don't place your desk against windows if at all possible. This will make you feel as if you have no solid background behind you. Don't place your desk in the middle of the room as it depletes you of control. Do allow yourself plenty of room at your desk so you don't feel cramped or confined. This can stifle your creativity and energy.
Colours
Colours play a very important part in feng shui design. Yellow items can rouse your thought, imagination, and mental activity while red is an aggressive colour that can bring about stress and problems. However, if you are a salesman, red is a good colour because it is also aggressive. Blues and greens are nice, soothing colours that work well for writers and artists. No matter what colours you choose to use, make sure your ceiling is a light colour. A dark ceiling colour will make you feel as if you have a dark cloud hanging over your head.
Other Tips
You should strive to eliminate clutter in your home office. Clutter is a big no-no in feng shui design. It can block chi energy and make you less prolific and dampen your best intentions. A crystal bowl or healthy plant in your wealth quadrant (the upper left corner) helps improve your business. Consider placing a blue, black, or brown rug in the middle of your office floor. These are water element colours that can help you relax and reflect.
It is important that your home office is light and airy. If you don't have a window, consider painting the room yellow, installing bright lights, hanging pictures of outdoor scenery, and purchasing some air-purifying plants. This can help get oxygen into the room and allow your energy to flow more easily.
By applying just a few feng shui basics to your home office, you can increase your efficiency, creativity, and feel more energetic.
You might also like...