How Stress Affects the Mind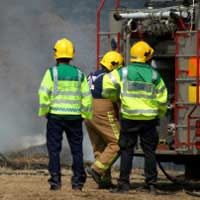 A study conducted by the American Academy of Family Physicians found that two thirds of all visits to family doctors are for symptoms related to stress. Stress can affect us physically as well as emotionally. Sometimes the two are even connected. If you are too stressed because of a big project at work, your mind may race at night and you cannot sleep. The lack of sleep affects your concentration and decision making abilities.
In that case, if you can use stress management techniques to ease the daily tension, you should be able to get a good night's sleep. But some highly upsetting situations can cause a stress disorder that is not as easily cured.
Post-Traumatic Stress Disorder (PTSD)
Post-traumatic stress disorder refers to the psychological results of exposure to a very shocking and disturbing experience. PTSD often occurs in someone who is faced with a life threatening experience that may include physical assault or someone who goes through an experience where they see others killed. This is not the normal grief or adjustment associated with a traumatic event. The emotional effects of a traumatic situation usually subside in most people after a few months, but if it does not or even gets worse, people are diagnosed with PTSD. While usually associated with people who have been to war, PTSD can also occur in those involved in other disasters such as the Indian Ocean Tsunami or the September 11th attack on the World Trade Center. This can include survivors of the disaster as well as relief workers. People who have experienced violent crimes such as rape may also be subject to PTSD.
The symptoms of PTSD are flashbacks, nightmares, insomnia, emotional detachment from friends and family, irritability, memory loss, extreme startle response to certain situations, depression, anxiety, and loss of appetite. PTSD can be delayed for months, years, or decades after an event then trigger by a certain factor. For example, a soldier who was in combat may arrive at home seemingly fine, but seeing a horrible car crash in which people died, triggers his memories of death during the war and causes PTSD symptoms to appear.
PTSD may seen new, but the first recorded was in 1900 by an Egyptian physician. It was described as a hysterical reaction to trauma. It has also been known as "railway spine" because of the reaction of many passengers involved in railroad accidents. However, it did not appear in the Diagnostic and Statistical Manual of Mental Disorders (DSM) until 1980. While veterans of World War II often exhibited signs of PTSD, it was the veterans of Vietnam that brought PTSD to the attention of doctors and counsellors. Veterans diagnosed with PTSD can now receive compensation.
PTSD is usually treated with a combination of psychotherapy and drug therapy. Psychotherapy can include group therapy, exposure therapy, and cognitive-behavioural therapy. Drug therapy may include the prescription of antidepressants or atypical antipsychotics.
Other Affects of Stress
While PTSD is perhaps a more severe form of how stress affects the mind, there are other mental symptoms of everyday stress. Stress can cause stuttering (or stammering), panic attacks, lack of sexual desire or poor performance, depression or mood swings, anger, racing thoughts, feelings of loneliness or worthlessness, nervous habits such as fidgeting or tapping, crying spells, defensive or suspicious behaviour, social isolation, and fatigue.
Stress can also convince your mind to do things to extreme. It can tell you that you need to smoke more, drink more caffeine, drink more alcohol, or eat more food. These things often make you temporarily feel better, but then make you feel worse, especially the over consumption of things that contain stimulants.
Most mental effects of stress can be controlled through stress management techniques such as yoga, meditation, or deep breathing. But, for more severe cases of stress, such as PTSD, visiting a doctor is advised.
You might also like...