Group Activities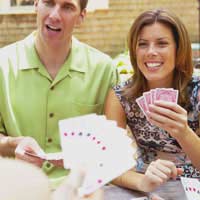 One way to cope with stress is to engage in fun activities with other people. For the sake of your health these activities should be ones that do not stress you more and do not involve overindulgence in alcohol (or food, for that matter) or using drugs of any kind. Some of these activities can also broaden your mind or appeal to your aesthetic sense. Some can just be pure fun with family or friends.
If your social pool is limited, consider joining a club or other organisation where you can meet new people and take part in group activities. There are singles groups and even organisations for single parents, such as Parents Without Partners. Participating in a class or organisation based on a hobby also lets you share your interests with others and provides opportunities for group outings or projects.
Families
If you have children, you can play games, go on picnics and other outdoor activities, or work on projects together. Camping trips, canoeing, fishing excursions, or short weekend road trips can be great activities for you and your family to do together to get away from the stresses of work and the routine.
These activities take some planning, not only in deciding where to go and what to pack, but how to keep children amused on the way to and from where you're going. Take plenty of in-car activities, such as cards, crayons, hand-held games, music, and snacks. Have more than you think you need, especially if your children are small. That way, they will not be stressed and neither will you.
If you live in the city and getting away to nature just doesn't seem possible, plan a city excursion or a mystery tour. You could set out from your home in a direction and walk or drive for so many minutes, then see what you find. If you make it a game, it will be fun for everyone. Scavenger hunts are also great ideas.
Sometimes, just the anticipation of a weekend event can help you cope with the rest of your week.
Couples
You can also do outdoor activities with another couple or two. You could rent a cottage in the country and spend a weekend with them.
Still, most couples entertain by hosting dinners. If the thought of doing all that cooking seems daunting when you are already overstressed, you could buy restaurant take-out or have everyone bring a dish to share. You also don't have to be the only host in the group either.
Suggest to your friends that you rotate who hosts the dinner each time. If there are enough couples, you will not be called on to cook very often. Some couples even create a sort of gourmet club and only meet once a month with the host providing the meal and wine. This can work for just two couples or for an odd grouping of friends.
Cards and Games
Many people like to get together with friends to play cards or engage in some of the new party games. Games like Trivial Pursuit, Pictionary, Guesstures, Cranium, and Balderdash are modern variations of old parlor games like charades. Some of these games involve sharing about yourself or have you engage in acting out answers or drawing them.
People still get together to play bridge and poker. More and more people are learning the game and playing it with friends at home. To help reduce your stress, play for chips and not money. Then it won't matter whether you win or lose.
Dancing
Ballroom dancing has also seen a revival. If you don't know how to dance, you can find a dance class or a ballroom club where you can get lessons.
In addition, some ethnic communities and some colleges offer classes in ethnic dance. You can go by yourself and become part of a group that is learning dances from all over the world.
Sports
If you are into a specific sport and want to get up a game, you can go to the YMCA, a community centre, or a gym and find someone to play with. Sometimes, it may just be one or two people who want to have a kick around, but you will find someone to play with.
You can also join an amateur team. These can be netball teams or football leagues or tennis clubs or golf teams. If you enjoy a sport, you can usually find others who do, too.
There are many opportunities for you to take part in group activities with people who enjoy doing things you also enjoy. These activities can take your mind off your worries, help you connect with friends, and get you to relax.
You might also like...