The Need to Separate Work and Home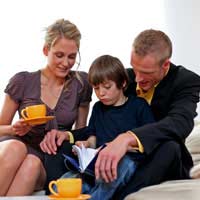 For many of us leaving the stresses of work is very difficult. Though we may be physically in our home sanctuaries, we mentally bring the workplace with us and carry home its concerns. This is especially difficult if we have spouses and children. If each of them also brings home the stresses of the day, it can make for a stormy homecoming.
In order to relax and manage the amount of stress we experience, we need to learn ways to successfully separate our work day from our home lives. This transition time is crucial for us to de-stress. It can also help all of the members of our households fully appreciate coming home.
Mr. Rogers, the minister who became every child's television friend, was right. On every televison program, he took off his suit coat and put on a cardigan sweater and then slipped off his dress shoes and laced up tennis shoes. He made a visual transition from his work to his time at home with his televison viewers. It was a good lesson we all should have understood and practiced. This simple act of changing clothes was a ritual that separated Mr. Rogers' work from his time off at home. Having a routine like this can help all family members put the cares of work and school away.
Family Time
In an ideal world, we should not bring work home with us and children should have homework finished before we come home. Still, having a transition time can help us reconnect with family or just still our minds. We can recharge and then complete work or school tasks when we are more relaxed and focused.
This time of shifting into a lower gear can be a very brief time to unwind alone or can be a longer one to bond with family. Some people take twenty minutes in private while a spouse or older child supervises the younger children. They change clothes, look at the mail, go for a jog, do yoga, or meditate. Some families take an hour to engage in an activity together. Calling it the Family Hour or Happy Hour, these families play a board game, take a walk together, or snuggle on the couch while reading a book aloud. Other families, have a welcome home hug, a snack, and a short family play time. Then the parent offers quiet games while dinner is prepared. Other families move the children's bath time to before dinner so that even the parents can get in a shower. In this way, the cares of the day are washed away ritually.
Going Solo
If you live alone, it is equally important to make a distinction between your work life and your free time at home. Some people play with a pet or soak in a bubble bath. Others enjoy a cup of herbal tea and music. Though quiet music may aid in relaxation, playing fast-paced danceable music may be exactly the stimulus you need to make your change from work to home. This is especially true if you work in a quiet office or have music pumped in that you don't enjoy. Putting on salsa music or loud rock and roll reminds you that you are in your own space, where you can listen to whatever you want and dance to it if you feel like it.
Leaving Work at Work
It is also very important to leave your work at the office. You can start doing that while at your desk or workspace. Jot down a few notes about tomorrow's day. Clear off your desk or put away your tools. Breathe, meditate, or just look out a window. Then, on the commute home, begin to unwind and think about what you'll do at home.
Whatever activities you chose for your transition should reflect who you are and be things you enjoy. This transition time can allow you to leave your work mind at the office and permit you to fully experience the hobbies and activities you like to do at home, as well as appreciate your family and friends. You also will be less stressed and more relaxed.
You might also like...