Finding Balance When You Work at Home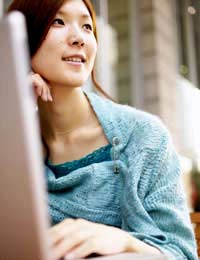 It is true that working at home will relieve many of the stressors that are built into the workplace; the commute, and those harried mornings trying to get the children off to school. However, working from your home, whether it is telecommuting from an office or running your own business, has built-in stressors of its own. Ending your work day and finding time for your family can be problematic.
Set Office Hours
Working too much is one of the dangers of working at home. It is easy to succumb to the lure of the computer screen. Its constant presence can draw you back into work mode even if you think you have finished for the day. That is why it is necessary to set office hours for your work week and try not to work on weekends.
Just as if you were working away from home, having regular hours also makes you available to others in your network who might be trying to reach you. Nevertheless, you don't have to keep bankers' hours. You can set your working times to suit your own natural rhythms or when you need to be available to clients or colleagues. For example, if you aren't a morning person, begin your work day mid morning or in the afternoon or even at night.
Whatever you choose, be consistent. Open your office at a specific time and shut it down at the same hour every day. When your day is over, do something to make sure that you are off duty. You should shut off your computer and put it away and clean off your desk. Then, simply shut the door of your office and not go in again until the next day. You could also change your clothes into something more casual or more dressed up, depending on how you work. Or, you could go into another room and begin a relaxing activity or join your family. Any kind of act that will tell your mind and body that you are not at work now is a good choice.
Take Breaks
One way to find balance in your work day is to take several breaks. Don't keep a coffee machine or a mini-fridge in your office. When you need refreshment, leave your office and go down to your kitchen. Better yet, take a walk to the corner shop or coffee shop, if there is one nearby, and get a beverage or snack. If you worked in an office building, you would go to a break room or cafeteria for your coffee break.
By leaving your workplace, you will give your body some exercise and allow your blood to circulate. This can stimulate your brain as well as give you perspective on what you are working on.
Make Technology Work for You
Take advantage of computer programs, PDAs, personal organisers, mobile phones, and other technological devices to save time and reduce your stress. You can also work away from your home office and still be connected. For example, you can take a wireless laptop into the back garden to work and enjoy the outdoors. You can take a walk during your day and still not miss an important call if you use your mobile phone number as your work number.
You can also avoid having to drive through traffic for a meeting if you schedule a conference call. Many phone services offer three-way calling as a customary option. If you need to meet with more than two other people, you can either hire a conference call service or arrange your appearance or presentation as a video call on your computer.
Take Holidays
Like a regular job, go on a holiday and take off important holidays just like everyone else does. This may sound simple but when you get into the habit of working at home at all hours, you will often find yourself working on holiday. Though you might feel tempted to finish one more project or make one more deal, it isn't worth your added stress to keep working. Take time off for yourself. You will rest your mind and body and allow the holiday to refresh your creativity.
Give Yourself a Bonus
Some companies offer year-end bonuses or a special bonus for a particularly difficult project. Treat yourself to that same appreciation. Though you might not be able to give yourself a large money gift, you still can reward yourself by buying a new pair of shoes or concert tickets. If you still don't want to spend a lot on yourself, you can give yourself a work reward by baking yourself a special cake or making a special meal. You could also just put a good movie in your DVD player or ring up a friend to arrange a night out. You could even cut yourself a bouquet of flowers from your garden.
When you work at home, you don't have to work all the time. Managing your work life can give you balance and help you minimise your stress.
You might also like...