Who Needs to Relax?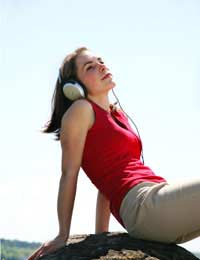 We often feel rushed, frustrated, overextended, and overwhelmed. Life comes at us from all directions, from work, from family, from the world around us. We need to learn to relax and calm our racing hearts and minds. But it isn't easy.
Stress is Everywhere
In the world we live in, stress contributes to our distress and produces these feelings. We worry about everything, from our finances and the future to strange weather patterns and the food we eat. We struggle with change and new experiences (even positive ones). We deal with health issues of our loved ones or our own. We are responsible for children or our own parents (or both). We also live with concerns about morality, personal safety, terrorism, and the uncertainties of life. These are all stressors, and they are everywhere.
We can't escape stress. Through the media and the internet, we have access to all manner of grim news and dire forecasts. We can also get email anywhere, so the pressures of work can follow us to our homes or even on vacations. In addition, cell phones keep us on call wherever we are in the world. These tools used to be used only in the hands of professionals such as doctors, lawyers, police, or high-powered business executives. Now, everyone can be available to employers and work projects or children's wants and family crises.
Victims of stress
Though men and women in stress-related careers come to mind as being people who need to relax. In reality, everyone needs to find ways to relax. However, some groups are more at risk that others. Of course, people in high-stress jobs like air traffic controllers, emergency room doctors, and stock traders experience stress and need to learn calming techniques. But, people in low-echelon jobs, those struggling up the success ladder, or service workers actually experience more stress on the job. Women (especially working mothers), young adults, the unemployed and underemployed, the elderly also need to learn how to relax and manage their stress. Moreover, women between the ages of 45 and 55 experience the highest levels of stress of any group. This is usually because they are often working, involved in their communities, and still parenting children while also caring for their aging parents.
Children especially are feeling the negative effects of stress at even earlier ages today. They are overwhelmed by homework, after school activities, social pressures, safety issues at school and in their neighborhoods, as well as imminent changes in their bodies. They are even affected by their own parents' stress.
Stress in the workplace
Needing to manage stress is a problem we all face. A recent internet search for managing stress uncovered 1.3 million websites, including new businesses that are making money coming into the corporate sector and teaching relaxation techniques. Also, the Center for Disease Control in the US has a link to The National Institute for Occupational Safety and Health and includes a full description of job stress and what managers and owners can do to help their workers. This clearly shows that the problem is so important that the US federal government sees it as a concern of epidemic proportions. A 2000 Gallup poll reported that 80% of US workers felt stress on the job. This results in over half of those workers experiencing stress-related illnesses and a million employees being absent every day because of stress. In Great Britain, 60% of adults who worked had experienced stress in the workplace in 1999, and in 2005, a half million British workers reported that they had illnesses that were due to work-related stress. In addition, 70% of doctor visits in Canada are attributed to illnesses that are stress-related.
Because we all feel stress, we need to understand what it is and what harm it can do. We need to learn to master specific relaxation skills to help us reduce stress. If these techniques are learned early enough, they will become lifelong tools to help us cope with other stress-related life challenges.
You might also like...