Relaxation and Stress Correlation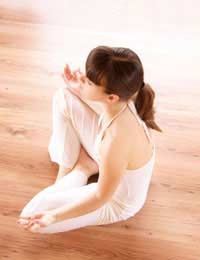 Relaxation is defined as the release of physical and mental tension. It can help us relieve stress in a number of ways. Relaxing normally is a natural response within the body to tension. For example as you bend your elbow, pulling your hand toward your shoulder, you are tensing your biceps. When you straighten your arm and let you hand rest in your lap, you are relaxing the arm muscle. This tensing and relaxing goes on throughout your body in many other physical processes. Trouble happens when you can not relax the body or the mind, leaving yourself in a state of tension.
What Happens within the Body
When you are experiencing stress, your muscles will tense. It is the body's response to the fight-or-flight hormones that are produced when you are under stress. You tense your shoulders and back muscles. You may even clench your fists or grit your teeth. Sometimes, your stomach muscles will tighten as well. This is very much like a woman in labour who tightens up her abdominal muscles during contractions. She actually works against what her body is doing to give birth to her baby.
Your breathing and heart rate often are increased as well, and your blood pressure can soar. Though most people can handle a momentary rise in blood pressure, maintaining a high level is dangerous and can lead to a stroke or even a heart attack. People under constant stress have higher risks of both diseases.
What Relaxation Does
Take the example of the woman in labour again. When this mother relaxes her muscles, especially those in her abdomen, through deep breathing and concentration, she allows the birthing muscles to stretch as nature intended. The relaxation techniques she uses release hormones such as oxytocin, endorphins, and serotonins. These hormones are natural pain relievers and help her to raise her pain threshold. This reduces the level of discomfort that she feels in labour. By relaxing and remaining calm, she conserves her energy and preserves the clarity of her mind for decision making.
Though you may not be having a baby, continued chronic stress creates similar tension within the body. When you calm your breathing, you can slow down your heart rate. Often, your blood pressure can be reduced. Relaxing muscle groups also helps you reduce tiredness during your waking hours and can improve your sleep at night. You can also have fewer headaches and back problems. As relaxation interrupts the stress response, it also allows your body to repair itself, especially during more restorative sleep.
A side benefit of mastering relaxation within your own body is experiencing a feeling of control and calm. Some people begin to feel more confident and hopeful. Other people become more productive because they can focus and don't feel drained all the time.
Learning how to relax may take time. Nevertheless, it may be the best lesson you ever learn. You will physically feel better, and your thinking will be more focussed. Even your personal interactions will improve because you will be happier and better able to enjoy life.
You might also like...