Signs of Stress in Children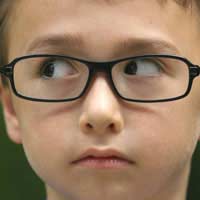 Children experience stress in a variety of ways. Some may just be overtired and seem to cope very well. Others may have mood swings, acting out behaviors, changes in sleep patterns, or may revert to behaviours of a younger age (thumb sucking, bedwetting, clinging, etc.).
There are many different signs of stress, but these are also signs of other conditions and illnesses. Any sudden change in behaviour in children, that is not related to developmental stages, is cause for concern. A cluster of these signs or the sudden appearance of one or two that persist for a long period warrant further observation. In any case, when stress interferes with a child's life so that the child feels overwhelmed, depressed, or physically ill, it may be time to see a professional (the child's doctor, a school counselor, or a therapist).
Signs of Stress: Up to 5 Years Old
Young children can't often tell you that they are feeling stressed. Their behaviour, however, can revel their level of stress.
Infants, toddlers, and preschool children demonstrate stress by clinging to a parent, crying more than usual, having temper tantrums, displaying regressive behaviours (thumb sucking, bedwetting, fear of the dark, etc.), rocking, biting, and having toilet accidents. Crying, temper tantrums, and wakefulness at night can also be a normal response to a developmental stage. Children often can be frustrated when learning to stand, talk, or master other developmental learning. They will cry more for a few days and then return to their usual personalities. If this persists, it may be a sign of stress.
Other signs of stress at this age are anger, accident proneness, and even a high sensitivity to sudden or loud noises. This startle response is a clear sign of stress even in an infant or toddler.
Signs of Stress: 6 to 11 Years Old
Children of school age are more able to tell you they are feeling stress. However, whether they verbalise it or not, they can also manifest physical complaints and uncharacteristic behaviours.
School children who are stressed often have stomach aches, headaches, respiratory tract illness, sleep problems, no appetite or wanting to eat all the time, experience slow recovery from illness, stutter, need to go to the bathroom a lot, or grind their teeth, especially in their sleep.
They also can pick their noses a lot, bite their nails, and have nightmares. Children may also revert to infantile behaviours such as bedwetting, tantrums, or baby talk.
Stressed children may also lie, bully, defy authority, express anger, be aggressive, be irritable, engage in disruptive behaviour, hit other children, refuse to go to school, and start bringing home poor school results. They can also have panic attacks, withdraw, whine, be depressed, lose interest in usual activities, seemed worried, can't concentrate, cry, appear to be lazy, be accident prone, and can drop friends.
Signs of Stress: 12 to 18 Years Old
Pre-adolescents and adolescents, though the most able to communicate of all of the ages of childhood, often are the least communicative. They also may deny that anything is affecting them and refuse to talk.
When stressed, teenagers may behave in many of the ways that elementary school age children behave when they are dealing with stress. Their regressive behaviours, however, won't be bedwetting and baby talk. This may manifest as not being willing to take on more adult responsibilities and wanting to play more. They may not want to go away to university, and may express this.
Stressed teenagers also may engage in dangerous behaviours that may put their health or lives at risk. They also may have suicidal tendencies.
Children may not be able to tell us that they are stressed, but their behaviours and physical symptoms can give us clues.
You might also like...
Hello, I work with children who worry.Some times there are specific reasons for the child to be worried and communicating with them is important.Creating a worry box, where she can write and post her worries in it can help. It helps her by expressing them, talking through them and then looking at ways of managing them, while posting them. Many children struggle with change and needing a planned routine.Visual aids can help to show them what's coming next and when. Some children who are on the autistic spectrum or have traits of, can display these worries too, particularly high functioning children, who are usually very clever and cable. I am not saying your child is autistic, but it is surprising how many traits we all have. However Schools are not good at recognising this, in bright, cable children. The fact that you are open to finding her help and a concerned parent, shows your love and it is that love that will help her own her way.So well done you. I hope the worries lessen soon, if they don't and cause her too much distress, I would advise you contact your local support team, or go through your GP. Kind regards. Helen. A book- help for worried kids, by Cynthia. G. Last is very good.
Nature
- 21-Oct-13 @ 3:51 PM
Hello.... My daughter age 12 was crying yesterday about not wanting to go on guides trip to France.... She had a bad experience on a school trip where she wouldn't eat the food and wanted to come home, but stayed the week.... I have spoken to her and she said she gets upset with change and worries... School Friday, watching a film in the afternoon but lunch might change... so shes worry on when she will have lunch... she likes a routine... Also, she feels she has to call or text me all the time and she makes sure I have my phone and worries if I forget it... Calls or texts me about 6/8 times a day. Will not come home after school on her own, not even if a friend comes back, so my mom picks here up everyday....I am going to see the doctor, but I have said if at school, I know your okay, any trouble the school will call me and if not me, dad, or nans.... but she was crying... I just worry and don't like change... What does anyone think is up... She hasn't started her periods yet, but to be honest I am scared on that too as I know that might be a big worry for her... I don't know....... Anyone else going through or has been through it ?because it is really making me worry and stressed out... She does hang around with a girl whos mom is always having a go at her, worrying, must tell me where you are etc etc.. wondering if its rubbing onto her and she thinks I'm the same or should be ? Thank you
cookie
- 3-May-13 @ 7:06 AM