How to Help Children Relax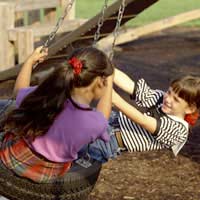 Children too, experience stress. There are many ways that we can help our children learn to relax and manage the stress in their lives.
Meeting Needs
If children are experiencing physical symptoms (headaches, stomach problems, etc.), we need to take them to the Doctor. There could be a physical reason behind these symptoms. If the child's symptoms are stress related, the Doctor may prescribe medications that can relieve the physical discomfort the child feels.
Next, we need to make sure that our children have their basic needs covered and that they have a consistent routine. In stressful times, routines can be their anchors.
Eliminate Stressors
We can also eliminate or minimise stressors in our children's lives. We can help them learn to manage their time, get better organised, and structure their days; this will help them be less rushed and overwhelmed. We can help them set goals and deadlines and break down tasks into mini-goals they feel they can accomplish. This helps them feel competent and successful. We can also leave our concerns about work at the workplace or keep them in private conversations out of earshot of our children. Most importantly, we can set a good example by managing your own stress.
Another excellent way to help our children manage stress is to help them anticipate an added stressor. When we know that the child may be placed in a situation that would produce stress such as moving to another town, we can help prepare the child for these events through discussion and other preparations. Also, when we notice that our child is experiencing stress or showing stress-related behaviours, we can draft a list of activities to use that will help minimise the stress.
Create and Recreate
Though children do arts and crafts projects everyday when they first enter school, these opportunities dwindle as they advance through the grades, with some high school students and adults never making another thing for the rest of their lives. Offering our children creative materials and opportunities can help them develop interests that can help them manage stress. These activities should be fun and not just other classes added to their already busy schedules.
Physical activity can also relieve stress. Children play tig and tag, football in the garden or dance to their favourite bands, do Tai Chi or other martial arts, or practice yoga. And, some just play. Recreation should be fun. We can do it with our children and have a great time. Some kinds of physical activity, though, such as yoga and tai chi, seem to be better able to help children and adults tune into their bodies and relax. The benefits of these two forms of meditative activity are flexibility, increased concentration, improved emotional control and inner calmness, and better sleep. Yoga can also improve coordination and balance and has been documented to contribute to improved speech and language learning though the breath work, especially with special needs children. Both activities are done in silence or with only quiet music playing, and can also be done indoors or outdoors by almost every age, size, or ability.
Meditation.
Children can learn to meditate, do progressive relaxation, or participate in creative visualisation. These activities can be incidental acts during the day or at a special time in the evening with you and your child. You can listen to soothing music together, look at the beauty in nature, or pray together.
Creative visualisation can be used for creating a mental place to go when we are stressed. It can also be used to help achieve a goal or do mental rehearsal. There are a number of recordings available to help children and adults with guided visualisation and meditation.
Communication
Talking with our children is important to helping them manage stress. If we don't have a talking relationship now, we can plan time to be alone with each child to do something fun together and to talk. We can ask open-ended questions that need more than a one or two word answer.
Being Available
Elizabeth Berger, MD, an Elkins Park, Pennsylvania child and adolescent psychiatrist and author of Raising Kids with Character, says "What helps children relax is their faith and trust in people they love." To help the stressed child, we must show empathy for the child's situation and help find solutions. Often, this is just being available to the child. "The child can relax when he recognises that the grown-up sizes up the situation and deals with it without being asked, because the grown-up takes upon himself the mission of protecting the child." In addition, human touch and human connection is critical to relieving stress. For children, it's essential.
Parents are critical for helping children manage the stress in their young lives. We can offer our time, our comfort, and the safety net of the home.
You might also like...