Music for Yoga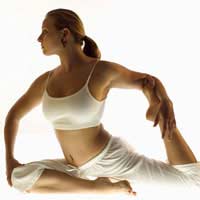 Combining music with our yoga practice can double our bodies' ability to relax and achieve a deeper relaxed state. It can also act as a cue for our bodies to begin the day in a composed state or to shed our cares when we come home.
Kinds of Music
Though we can use almost any genre of music for yoga practice we should make sure that our selections don't draw us away from our inner concentration. Most music with words will have our minds following the lyrics and away from our breathing and paying attention to where our bodies are in space. Instrumental music is usually the best choice. Some yoga practitioners will choose a piece of music that has chanting or ambient voices along with the musical melodies. Usually, what is chanted or sung is done in another language. For most of us, listening to singing in a language that we don't know is like listening to another musical instrument, only it is the human voice, and doesn't intrude into our yoga practice.
Though we could use film scores, gospel music, Spanish guitar, or sitar music, we still must make sure that what we are listening to keeps us focused inward on what our bodies are doing. Certainly, some people could so focus on the praise elements of gospel music as they tune into their bodies that their yoga practice becomes a form of moving prayer. Their bodies will naturally relax.
Most people choose music that is soothing and meditative. New Age music, flute music, drums, harps, or whale song can help us focus on our yoga practice and help us relax our bodies.
Choosing Music
Some of the yoga music that is available on the internet and in record stores is more South Asian dance music. It's quite lively and entices our bodies to move. However, it may not be what we want to listen to if we want to concentrate on our breathing or what our bodies are doing. And, it's definitely not what we would want for meditation.
There are several CDs available that have music for an hour's yoga practice. These CDs begin with quiet music that helps us separate from our cares and prepare for practice. Then the selections slowly build in energy as we stretch our bodies and begin to move them into more strenuous poses. Finally, there is a slowing of the tempo of the music as we do other stretching asanas and prepare for meditation. There is usually a soothing track or two at the end so that we can use the music to move us into meditation. If we want a longer meditation experience, we can always put in another CD that is composed solely of meditation music.
Some yoga practice CDs come with verbal instructions. This could become annoying once we learn the asanas or poses, and we keep hearing the instructor tell us what we should be doing. Sometimes, however, yoga practice CDs can have a narrative that can keep us focused and remind us to be mindful of breathing or other types of awareness. This kind of instruction becomes almost like a guided meditation. (Some yoga practice DVDs also do this.) Nearly all of these yoga instruction CDs also have music in the background.
If we have chosen our music for yoga practice carefully, we may not be aware of the music at all. Instead, we will feel in sync with what we are doing as we move through our yoga practice. In addition, we can so train ourselves, by using the same music each time, to relax whenever we hear that music.
Where to Look for Music
Music for yoga practice may seem like a difficult thing to find. However, with a little creativity, we usually can find selections that are perfect for our needs.
First of all, we can search the internet for sources of yoga music. There are many there that exclusively offer yoga music for sale. Even so, we should carefully sample selections online before purchasing. Many of the new titles are coming from India and other parts of the world. Though these recordings are authentic in that they are made by South Asian artists, sometimes in specific traditions, sometimes the music sounds as if it were music heard in the popular media, rather than in yoga centres.
Another place to look for music is record shops that offer a wide variety of music, including world music. Again, listening first is always a good idea.
Yoga centres and yoga instructors in our communities can also point us toward music that we may not have heard before. Friends who practice yoga are also excellent sources of music.
Music is an important tool for relaxation and supporting our yoga practice. By choosing our yoga music carefully, we can greatly enhance our ability to relax and manage stress.
You might also like...