Why Art Helps to Heal and Relax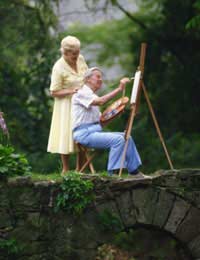 Medicine is just now beginning to see what traditional healers have known for centuries. There is a connection between art and our well being.
Art and Healing
A recent study at Northwestern Memorial Hospital in Chicago asserts that after making art, cancer patients reported reduced levels of pain, tiredness, depression, anxiety, drowsiness, and shortness of breath. They also had improved appetite and feelings of well-being.
Art has been integrated with traditional healing since humans first gathered into communities. Over time, art and healing separated, according to Michael Samuels, MD, a pioneer in guided imagery with at-risk patients and author of fifteen books on healing. "Art changed direction. Healing changed direction," he says. "Healing became tremendously specific and scientific."
He knew from his experiences with guided imagery that alternative methods could work. "The Cleveland Clinic [in Ohio] has proven that if you play a half-hour guided imagery tape before and after by-pass and colon surgery"" Samuels says, "that you shortened the hospital stay by a day and a half and cut pain med use in half."
To Samuels, art was another means of achieving the same state as that produced by guided imagery, but it had more lasting results. That state is one that also reduces stress in our bodies.
How does art heal? According to Samuels, making any form of art changes a person's physiology and mental and emotional states. The creative process moves a person into deep relaxation, promotes hope and a positive outlook, and offers stimulation and inspiration. This in turn affects the immune system and stimulates hormones and neurotransmitters. That's why patients often report less pain and elevated mood after making art. And, that is why it's an effective tool for stress management.
Art as a Healing Force
Later, Samuels and his sister founded Art as a Healing Force, an arts organisation that advocates that benefits of art and healing. "We widened the visions of the artists to heal themselves, others, and the earth," he says. "And the earth also expanded to neighbourhoods, communities, minority groups." These artists are not art therapists, who often use art as a diagnostic tool or as a means for delving deeper into psychological issues. Instead, they are working artists who help patients create artistic works that help them heal and cope with the stress of illness.
In addition, Samuels and Art as a Healing Force work with hospitals and clinics to create beautiful surroundings. According to him, medical centres often are toxic places that have very depressing decor. When patients can view art or water fountains or flowers in a garden, which transforms the space and transforms their minds and spirits. He works with artists to paint murals, create sculpture, and plant rose gardens or Zen spaces within the campus of medical facilities.
For our physical and mental health, Samuels says everyone should be making art every day. All we need is to choose an art form, find a space to create and make art.
You might also like...