Mental Signs of Stress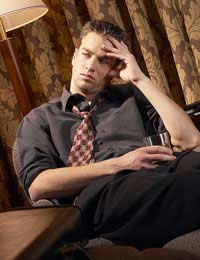 Stress not only affects our bodies, but our minds and our cognitive functions as well. Some of the mental signs of stress also cross over into behaviours and emotions and can affect our spiritual lives.
Mental Functioning
Being preoccupied with worry or overwhelmed by demands in our lives can seriously impact our brain's functioning. We can experience foggy judgement that can cause us to make poor decisions. Sometimes, we are so stressed that making even simple decisions are difficult. We cannot concentrate as we once did, and we find that distractions intrude not as minor annoyances but as major roadblocks to our productivity. Our ability to solve problems is impaired, and we find it hard to think clearly. Our minds race with too many ideas or we go blank with confusion.
Our disorganised thinking begins to impact our memory. We misplace things and forget appointments. We miss deadlines. We no longer pay attention to details, and the quality of our work suffers. We turn in work that is below standard, and we decrease our productivity. We have difficulty working effectively and completing tasks. We not only can't keep focused on a project, we also move from project to project, never fully completing any.
We seem to be repeatedly late. We can feel pressured, preoccupied, and mentally fatigued. We also may be very resistant to new things and to any change around us. The reason for this is we feel that change brings stress, and we seek comfort in the familiar and the routine.
Long term stress can also impact our daily activities. Things that we need to do every day such as bathing, changing clothes, or shaving are drudgeries that take longer to do because we have no interest. We can stop doing laundry or cleaning up after ourselves. If we need to care for someone else's needs, that becomes harder and harder to do.
Perceptions
The mental confusion is compounded by our own perceptions. Our minds are filled with worry. We are concerned about money and our jobs. We feel helpless as parents or lovers or friends. We may have a low sense of self and worry about being rejected by family.
We also can experience a variety of anxieties and fears. We constantly feel uneasy. We may perceive difficult situations as threatening. We begin to worry about disease and what would happen if we or someone we love died. We can develop fears about any number of natural phenomenon (heights, thunderstorms, earthquakes, or even small spaces) that we didn't experience before. Sometimes, we even start to have nightmares.
In addition, our thoughts and perceptions derived from our stress can make us reluctant to take time off. We don't take vacations or look at weekends with dread. Though time away from our stressors would benefit us, we think that it will compound our stress because of all the work left behind or what we would have to catch up on because of our absences. Conversely, some of us take repeated sick days not only because we are ill but also because we can't cope and need to avoid our stressors.
Behaviours
The mental effects of stress can also drive our behaviours. We may cry more frequently or get angry. We sleep too much or suffer from insomnia. We can increase our intake of caffeine or alcohol. We can overeat or not be interested in food. Or, we can take up smoking or use drugs or look for comfort in meaningless relationships. Fast driving or other risky or aggressive behaviours may be another way that we cope. We could also become accident-prone.
Some of us may just want to withdraw from others. We feel listless and want to be alone. We begin to neglect things that are important to us such as work, family, or personal appearance. We may not want to discuss our problems with anyone, or we may talk about them all the time. We can become irritated with co-workers and family and have more arguments with them.
Sometimes, mental stress can lead to nervous laughter, a tendency to be easily startled, or speech difficulties such as stuttering.
Quality of Life
Stress that affects our minds can have a profound affect on the quality of our lives. We can lose our sense of humour and be unable to laugh. We feel bored with life or overwhelmed by it. This can also affect those around us and impact our spiritual lives. Being unable to cope with our stress, we can't enjoy our lives and those we love.
Though we cannot totally avoid stress in our lives, we must realise that prolonged stress can affect us in mind, body, and spirit. Most of us won't experience all of these mental signs of stress nor the severity of them. But we need to be aware of them so that we can find ways to cope with the stress in our lives before it affects the quality of our lives.
You might also like...