Benefits of Yoga for Stress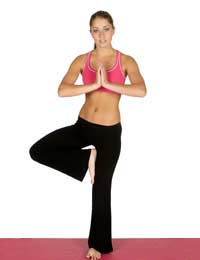 Many of us aren't sports minded or we really abhor the thought of jogging or going to the gym. We're in luck because there are other forms of movement that can help us relax. Hatha yoga is one of them. Hatha yoga is a system of asanas or postures that when combined with proper breathing can help us disconnect from the world's stresses and allow us to relax the body.
Kripalu Yoga
Yoga offers physical exercise that can stretch and tone without adding more tension to an already stressed body. Kripalu yoga, a form of Hatha yoga, is especially suited for special physical needs because it is gentler and more meditative than other types of yoga. The postures of Kripalu yoga can be adapted to people with bad backs, bad knees, and hip problems, including bursitis and sciatica. This form of yoga stresses paying attention to the body. This is more involved than just how fast the heart is beating or how many repetitions of a particular exercise or even how long to hold a posture. Kripalu yoga teaches the practitioner to be mindful of where the body is in space, what muscles are being stretched, and how those muscles feel. This mindfulness helps to slow down the heart rate, regulate the breathing, and slowly relax the body.
Deep Breathing
The yoga postures and deep breathing help raise the level of oxygen in the blood, stimulate blood flow, and improve the delivery of nutrients to the cells. This is particularly important when a body has been dealing with stress. The deep belly breathing that accompanies the postures helps to turn off the flight or fight response and also helps to focus the mind on the body and the breath, not on the things that are stressful in our lives.
Stretching and Balance
Yoga also emphasizes stretching and balance. By moving the body in a series of postures, we can stretch muscles and keep our joints supple. We can also tense and relax muscles as we move from postures that collapse the spine inward (as when we bend over and grab our ankes) to postures that curve the spine in the opposite direction (as when we do a salute with hands over our heads and we arch the back). These flexing and collapsing motions lubricate the spine and also help to stretch and tense muscles and then relax them. This kind of stretching not only relaxes us but helps promote flexibility and can help prevent injuries when we do other physical activities In addition, balance postures such as the Tree and the Table strengthen our muscles and help us fine tune our balance on both sides of our bodies.
Body Awareness
The body awareness that yoga stresses also can help us develop poise and self esteem. This is the grace and self assurance in physical movement that trained dancers experience. It is also similar, on one level, to what martial arts practitioners develop. The awareness of one's body in space and in relation to others is a skill that martial artists try to achieve. They desire to be ready at any moment to handle any attacker, should one present himself. Though yoga practitioners don't think in those terms, they do operate on the same principle. By knowing where your body is at any given time and how it relates to others in the physical world, you begin to feel a calmness within your body and your surroundings.
Quietness
Finally, yoga can promote relaxation through quietness. Since most yoga practice is done in silence or with relaxing music, the body and mind soon are calmed. Having a time of quietness or restful music can help you separate from the stresses of the outside world. You can turn within and examine how your body feels. You can concentrate on how you are breathing and even regulate your breath to even deeper levels of calm.
Meditation
Most yoga practice has two periods of meditation built into the practice. One is a brief time at the beginning where you sit quietly and concentrate on your breath, shedding the cares and concerns of the world. The other, longer period is at the end of practice. It can be a time where you go through special relaxation techniques or other forms of meditation. If you are taking a class or use some professional yoga CDs or DVDs, this meditation time may involve a guided meditation or just be a time for you to relax after stretching and toning your body. The physical activity will have removed much of the tension from your muscles and will allow you now to concentrate on going into a deeper level of restfulness.
Yoga is an excellent tool to help you manage your stress, even if it has already manifested as illness. Yoga can help your body and mind relax. Combined with meditation, it can also tap into the spiritual, if you are so inclined.
You might also like...