Benefits of Tai Chi for Stress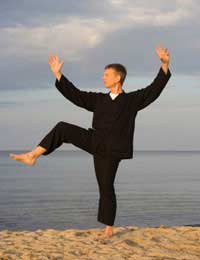 Many people practice Tai Chi every day, usually in the morning. In areas of the world with large Chinese populations, practitioners will gather in parks in large groups and go through Tai Chi forms in silence. It is a popular choice for stress relief and for maintaining good health. We don't often associate these gentle movements of Tai Chi with the martial arts, but it does trace its roots to them in the ancient dynasties of China.
History
Around the third century AD, a physician named Hua-tu'o observed animals in nature and how strong and healthy they seemed to be. He copied the movements of five animals (the tiger, deer, bear, ape, and birds) and developed a movement system called Wu-chi chih hsi. This was the early beginnings of what became Tai Chi. A thousand years later, a monk of the Wu Tang Monastery, Chang San-Feng, left the external martial arts and took these forms and added others, forming the thirteen postures, and developed Tai Chi as an internal martial art.
The internal school of martial arts (Nei Chia) stressed form, strength, flexibility, and balance. When a practitioner was attacked, he met the attacker with a soft resistance and moved along with it until the attacker's momentum was exhausted. This diverted the attack, making an internal martial art a form of self defense not attack. The external school emphasised speed and sharp movements and attack. Composed of Shaol Lin, Southern Fist, and Long Fist, among others, external martial arts focus on meeting the hard movement of an attack with another hard movement of equal strength.
Later, Wang Chung-yueh and his student Chiang Fa put the thirteen forms into a fluid sequence, much like the Tai Chi Chuan form today. There are five forms of Tai Chi Chuan practiced today. They are the Yang, Chen, Wu, Sun, and Woo styles.
How It Helps the Body
Tai Chi strengthens the legs and stretches the joints and ligaments of hips, knees, and ankles. This increases the body's range of motion and increases stamina. Because it is a weight bearing activity it can help increase bone density. Tai Chi is also low impact and good for people with arthritis to do. In fact, the slow, fluid movements also and improve joint flexibility so much that some arthritis suffers find relief.
A Tai Chi practice aligns the spine and encourages balance. Work with the balance postures create body awareness and foster grace and stability. This helps a person to be less prone to falls and injury. An Emory University study found that people who practiced Tai Chi twice a day and practiced with a group once a week had 50% fewer falls.
Practicing Tai Chi also increases oxygen that we take into the body, thereby making us more efficient breathers. It can slow the heart rate and reduce blood pressure. In addition, Tai Chi improves the immune system, as well as the digestive system.
Besides these benefits, moving the body gently and smoothly can help reduce stress by working out tension in the body. Focusing on the graceful movements also helps calm the mind. The brain also reduces the levels of stress hormones while we are practicing Tai Chi and continues when we are finished. Many times, practitioners will report heightened mood states during or after practice. Others simply find that they sleep better.
Because the focus of Tai Chi is the mind concentrating on the movement, being in the movement as the body places arms and legs into one position after another, there is no room for other concerns or cares. The harmonious movements of opening and closing arms and legs becomes a physical meditation that is driven by the mind. Some Tai Chi instructors claim that regular practice can reduce anxiety and depression and change your mood.
There are also some claims of reducing symptoms of Attention Deficit and Hyperactivity Disorder or at least helping suffers cope better. This is due to the emphasis on smooth, concentrated movements.
Many traditional practitioners of Tai Chi believe that moving through all of the forms balances the chi (also called Qi) or energy within the body. When chi is balanced, people feel better and usually have better health. Weak or blocked flow of chi causes illness. Many practitioners claim Tai Chi will help them live longer, and, in truth, many people who have practiced Tai Chi for years are active well into their Golden Years–and many are mentally alert.
Today in the West, Tai Chi is less a martial art and more of a meditative art. Regular practice promotes emotional peace and tranquility, which profoundly affects the mind and body.
You might also like...